Over the decades, there have been no fewer than six Broadway productions of You Can't Take It With You, George S.  Kaufman and Moss Hart's Pulitzer Prize-winning comedy about  a madcap clan coping with the Depression.  In its latest resurrection by director Scott Ellis, now previewing for a September 28 opening at the Longacre Theater, it's still proving to be a hearty crowd-pleaser. In fact, the hysterically hyperactive Vanderhof living room looks a little bit like the original fun house. 
Rose Byrne of Bridesmaids, Damages and Australia is Broadway-debuting as Alice, the one sane and sensible member of the Vanderhof household, perpetually apologizing to her straitlaced beau for her family's eccentric foibles. This current poor-Alice-caught-in-the-middle returns to her home nightly with the question "Well, what's new around here—in the way of plays, snakes, ballet dancing and fireworks?" She's not kidding, either. All the Vanderhofs have their own creative corner in this zany place where everybody is doing his own thing long before it becomes fashionable and a phrase.
Ruling this famously unruly roost is the formidable James Earl Jones, in a classic stage leap from Big Daddy to Big Granddaddy, Martin Vanderhof. He had always hoped he'd make his entrance into the works of Mr. Kaufman and Mr. Hart as Sheridan Whiteside, The Man Who Came to Dinner, he said, "but when this one came up, I had to. It's quite a cast—from young kids to, basically, me—and all ages in between. The two generations here are real."
Playing patriarch is a piece of cake after the ex-president he played in a 2012 production of Gore Vidal's The Best Man. "That was a cast where the producer said, 'Eight characters above the title. Go, boy!' "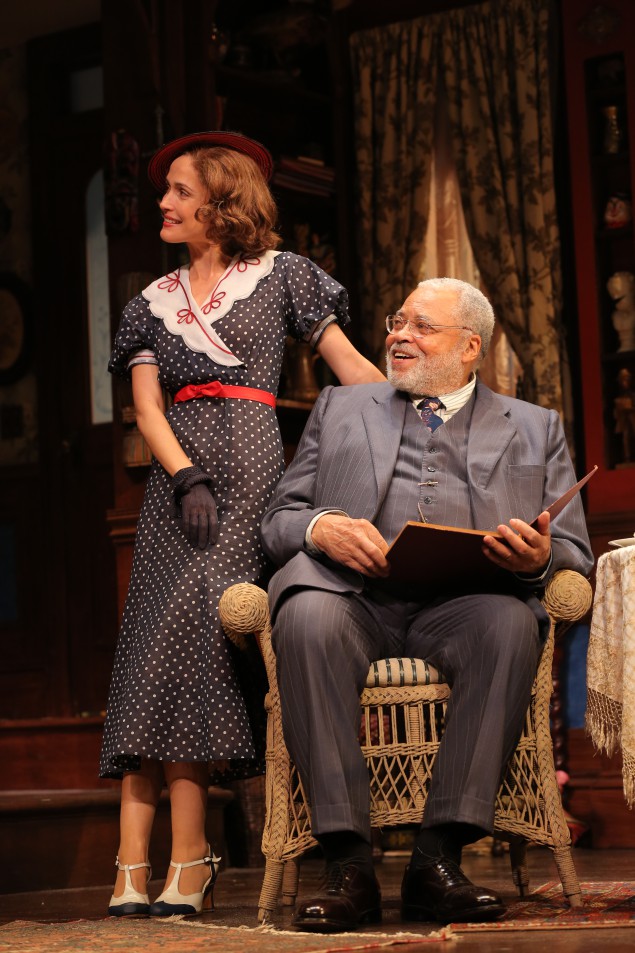 The producer, Jeffrey Richards, is the same here, as is his propensity for sprinkling starry names over the proceedings (in this instance: Kristine Nielsen, Annaleigh Ashford, Byron Jennings, Johanna Day, Mark Linn-Baker and the delightful Elizabeth Ashley as an exiled Russian royal reduced to waitressing in Times Square).
"This is what I've always said an ancient actress would be grateful for," purred Ms. Ashley huskily. " People talk about you before you arrive. You show up in the last 15 minutes, wearing a wonderful wig and beautiful clothes, say a few witty things and leave. I always heard rumors of roles like that, but I thought they might be a myth."
Newbie actors in the 19-person show are dazed by the company they are keeping. Case-in-point: Fran Kranz, who plays Alice's intended, Tony Kirby, a banking veep barreling his way into the loopy Vanderhof herd. "There are so many fine actors, top to bottom, that I can't wait to get to work every day. Will Brill, for instance. I saw him in Tribes and thought, 'My God, this guy is an amazing actor!' I texted him as soon as I heard he was doing the show, and he said, 'How do you have my number?' "
That You Can't Take It With You has stayed in the public consciousness is due largely to the popular (if unfaithful) cinematization by Frank Capra, who won the third of his three Oscars directing it. And it's the first of two Pulitzer Prize-winning plays that prompted an Oscar-winning Best Picture. (Rest assured that Alfred Uhry was infinitely more faithful to his own Driving Miss Daisy than Robert Riskin was to the Kaufman and Hart hit.) In opening up the play to the possibilities of the big screen, the cast of characters swelled from 19 to 153 and the film ended up focusing more on the Kirby family than the Vanderhofs.
Which was just fine  with the authors. "They made their peace with the film," said Mr. Hart's son, Christopher. "They didn't want to do any of the movie versions of their plays, anyway. That was one of their tenets.
They said, 'Just send us the check—we'll be happy.' "
"Luckily, they didn't need the money and didn't have to take those jobs. They had said what they had wanted to say about it, and they knew Hollywood was going to make them miserable. Playwrights weren't accorded the same respect they got on Broadway. They'd write their own movies if they could start from scratch. George wrote A Night at the Opera, which my mother [Kitty Carlisle] was in. Moss wrote Gentleman's Agreement and A Star Is Born."
Mr. Ellis, of course, goes back to the text for his  version. Once again, it's like a convention of amiable kooks under the Vanderhof roof. "This is the biggest cast I've ever directed," said Mr. Ellis, "The challenge for me has been to turn these 19 people into a real family, and, happily, all the actors were on the same page."