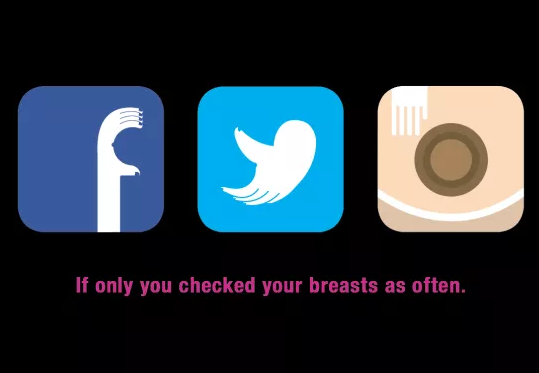 Breast Cancer Awareness Month is coming in October and, as always, there will be a slew of boob-related ad campaigns to delight and offend us all. Already, we're getting a sneak peek at one of these publicity stunts, and we're calling this one on the tasteful side of the line.
The Breast Cancer Foundation has started a petition asking Facebook, Instagram and Twitter to change their icons to breast-inspired alternatives to raise awareness for the need for regular breast examinations for a whole month, with a goal of 10,000 signatures. The Freudian icons were designed by marketing firm DDB Singapore, and come with a series of poster-sized ads.
The ads poke fun at social media addiction, and plead with us to channel our attention toward getting breast examinations. The altered logos for Twitter and Facebook are a little subtle, but the reimagined Instagram icon is, erm, pretty blatant.
It's too bad they stopped at those three services — we would have liked to see a breasticized version of Pinterest's elegant icon, Ello's haunting smiley, or Snapchat's Ghostface Chillah.
It's unlikely that 10,000 signatures will be enough to rally these titans to show their many hundreds of millions of users mammaries on every page for a whole month. But in terms of raising awareness from the complacent masses, you couldn't ask for better allies than the world's top merchants of wasted time.
Take a look at the ads below, at risk of never again being able to see the trademark Facebook "f" as anything but a slender hand trying to cop a feel.
Twitter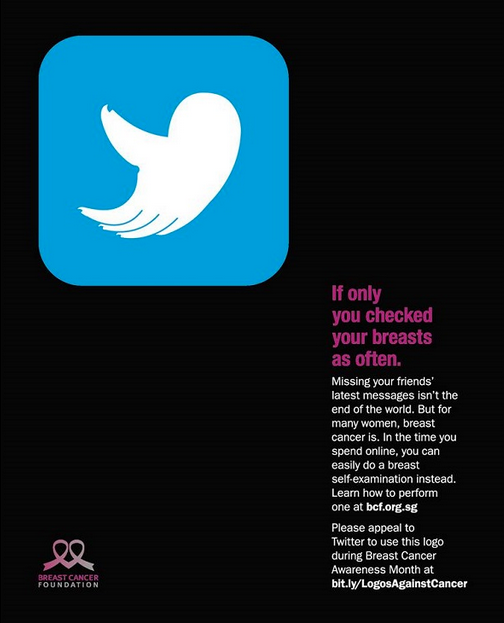 Facebook