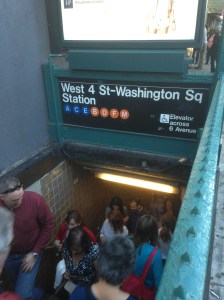 A British journalist has learned the hard way that you don't mess with the MTA.
Guardian writer Bim Adewunmi posted an Op-Ed blasting the New York subway system on the paper's website yesterday. Ms. Adewunmi, who is on sabbatical writing a novel in the Big Apple, compared the MTA very unfavorably to the London Tube.
The Anglo transplant begins her assault on the subway by calling it a "dystopia…cooked up in a fever dream." Also, unlike in London where there are distinct color differences between lines, "the B, D, F and M all rejoice in exactly the same shade of violent orange."
The intrepid reporter continues her screed by lamenting the lack of an aboveground departure board, so "you descend into the bowels of the city with no idea when your next train will be." The signs in the trains themselves are "a mess of fonts and colors."
Ms. Adewunmi's other complaints include that the trains are too cold and that the stations are dirty. In conclusion, she compares the subway to The Hunger Games, while apologizing for being the kind of Brit who "with a condescending chuckle, compares everything with 'back home.'"
The MTA responded with a cattily perfect statement.
"When she complains that the subway uses too many fonts, it seems clear that she hates our subway less than she just loves to complain," MTA spokesman Adam Lisberg told Gothamist. "There are literally books written about the MTA's single font and unified graphic design."
Mr. Lisberg concluded on a note of self-deprecation, while offering some advice to Ms. Adewunmi.
"No, the subway is far from perfect. It needs billions of dollars and years of work to keep it running well," Mr. Lisberg said. "But if she blames the subway for ruining the New York City of her dreams, she should stop complaining for a moment and realize the problem with her life isn't the subway – it's her attitude."
In that case, Ms. Adewunmi, enjoy paying $7.30 for a one way ticket.