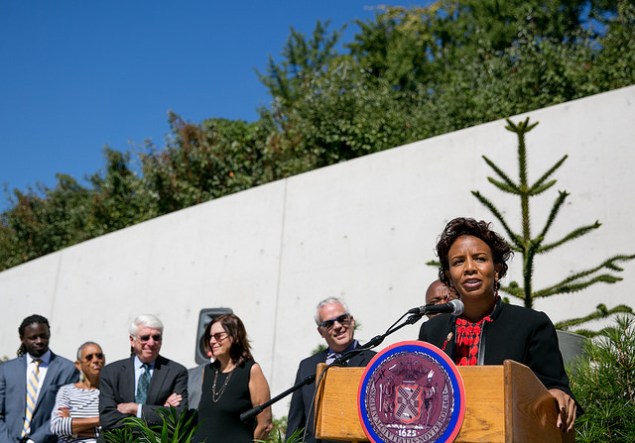 Brooklyn Councilwoman Laurie Cumbo today called for Police Commissioner Bill Bratton to stop using the term "broken windows" to describe his approach to policing–arguing that the anti-crime philosophy originally called for infrastructure improvements, not increased law enforcement.
Mr. Bratton became famous in the 1990s for implementing a "broken windows" philosophy during the Giuliani administration, cracking down on minor crimes like panhandling and turnstile jumping as a means to discourage more serious offenses. Ms. Cumbo, however, asserted at a City Council hearing on the New York City Housing Authority that the "broken windows" theory is more about polish than police.
"The broken windows theory wasn't to address people, it was to address the environment," Ms. Cumbo said at the hearing, held inside Breukelen Houses in East Flatbush, Brooklyn. "Those common areas, those stairwells, those entryways, the haven't had a coat of paint in what looks like decades."
"Create a safe environment, create a clean environment, create a place where people want to live. When you move away from that and you start attacking people, you aren't doing what broken windows is about," Ms. Cumbo continued.
Speaking afterward, Ms. Cumbo softened her comments, saying "attacking" was too strong a word. She still maintained, however, that Mr. Bratton is misusing the term "broken windows" and called for him to rechristen his policing policy.
"He should call his theory something else," Ms. Cumbo told the Observer. "Broken windows is a theory, a concept if you improve the physical environment it will decrease crime. It was not meant to be implemented on people."
Ms. Cumbo said she had addressed her concern to Mr. Bratton and the de Blasio administration in council hearings, but had not seen a response. Still, she admitted that Mr. Bratton's ideas–credited by many with reducing the city's record crime rates–might have some basis in fact.
"I suspect some validity in stopping minor crimes to prevent larger crimes from occurring," Ms. Cumbo said. "Just term it something else."
Council Speaker Melissa Mark-Viverito said she concurred with Ms. Cumbo's assessment.
"I think she's posing a valid analysis of what the original broken windows theory encapsulated," Ms. Mark-Viverito said, though she admitted she was not entirely familiar with the historical and sociological underpinnings of the idea. "Infrastructure inmprovements, creating a better environment. That should be the focus, not just the focus on the individuals and the crimes they are committing or potentially committing."
The term "broken windows" derives from an article by the same name published in the Atlantic in 1982 by sociologists James Wilson and George Kelling, which explicitly argued that enforcing laws against public intoxication, vandalism and other forms of disorderliness makes residents feel safer.
Mr. Wilson's and Mr. Kelling's recommendations for reducing fear of crime–if not the actual crime rates–however, resembled Ms. Cumbo's suggestions. The two proposed police on familiar terms with community residents patrol neighborhoods on foot, and described a particular situation in Newark, New Jersey as an ideal example.
"These rules were defined and enforced in collaboration with the "regulars" on the street. Another neighborhood might have different rules, but these, everybody understood, were the rules for this neighborhood. If someone violated them, the regulars not only turned to [Officer] Kelly for help but also ridiculed the violator," the pair wrote. "Sometimes what Kelly did could be described as "enforcing the law," but just as often it involved taking informal or extralegal steps to help protect what the neighborhood had decided was the appropriate level of public order."
The two argued having officers patrol in vehicles, or having them use force against suspects, detracted from police-community relations and did not result in residents feeling safer in their neighborhoods.
Mr. Bratton did not immediately respond to requests for comment.
Due to an editing error, the author of this story was originally listed as Ross Barkan.