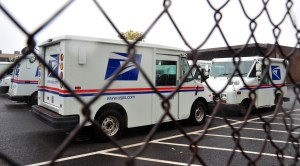 A Brooklyn mailman was arrested Wednesday after it was discovered that he had failed to deliver 40,000 pieces of mail.
Joseph Brucato kept the undelivered post in his house, locker and car. He was found out after his supervisor saw pieces of mail in his 2004 Mitsubishi Galant, which is not an authorized mail delivery vehicle, the Daily News reports.
Mr. Brucato, who worked in Flatbush, admitted that he had been keeping stolen correspondence in the vehicle for at least six months. In all, federal agents recovered about 2,500 pounds of snail mail dating back to 2005.
"On some days he did not deliver the mail intended for his route for personal reasons," Special Agent Michael Wu said in court documents.
Mr. Brucato's lawyer told the judge that the criminal Cliff Clavin suffers from depression.
Magistrate Vera Scanlon told Mr. Brucato to refrain from drinking excessively before he was released on his own recognizance. The U.S. Postal Service has suspended him without pay.