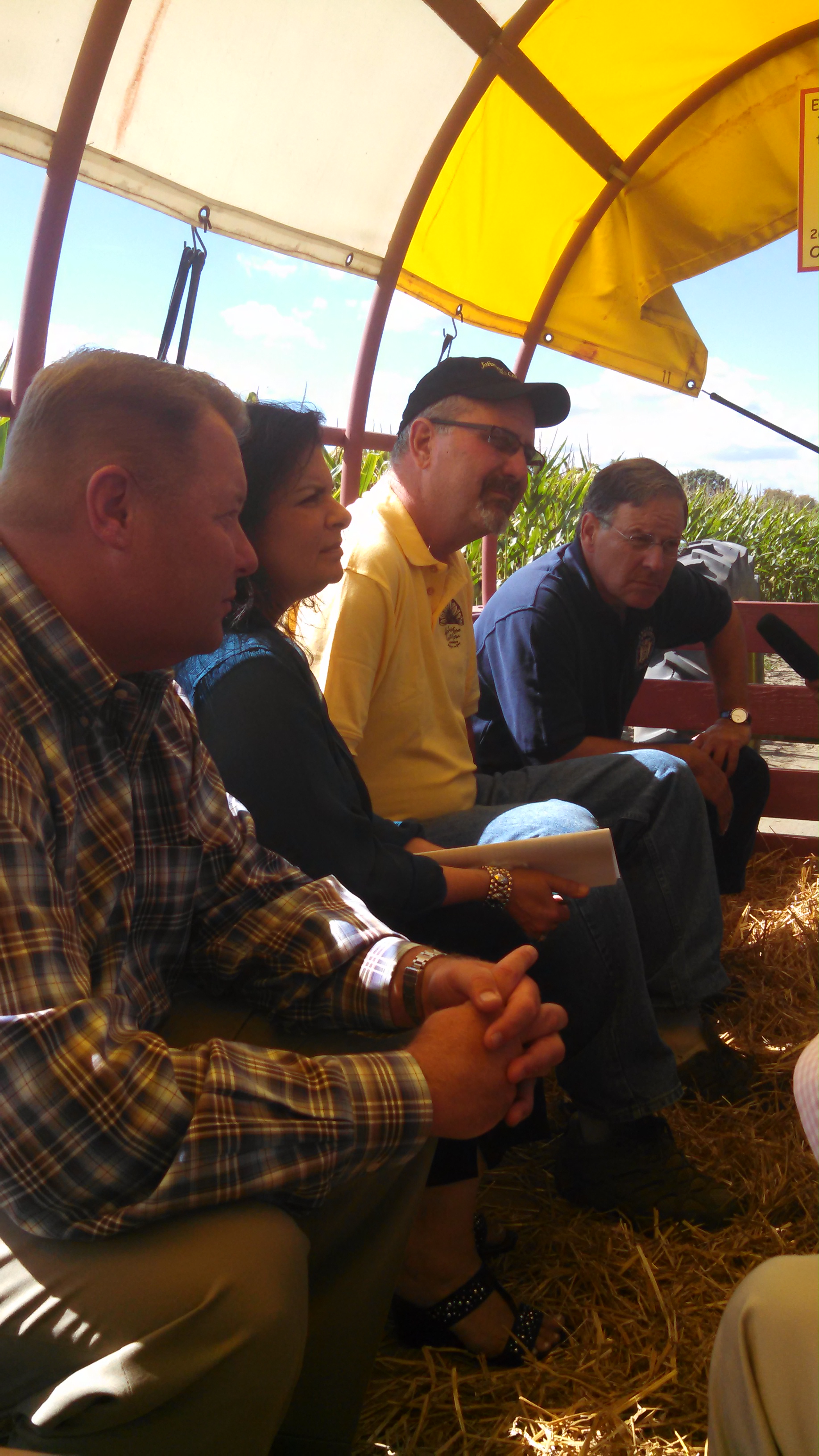 MEDFORD – The scene was almost comical, three casually-dressed pols and a few press people trying to look cool in a covered wagon with hay-covered floorboards that bumped awkwardly along the dirt road as an old John Deer tractor out front chugged its way around this corn field-dense, 150-some-odd acre property where Assemblyman Jon Bramnick hosted the latest leg of his Real Talk to Restore Fiscal Sanity tour.
Joined by LD8 legislators Assemblyman Chris Brown and state Sen. Dawn Addiego, Bramnick sat upright in blue slacks and a polo, making a passionate plea for the small business owners in South Jersey like this one, Eric Johnson, co-owner of Johnson's Corner Farm in Burlington County, who he said are routinely ignored by legislators in Trenton.
"Once it gets to Trenton, and all the lobbyists get their hands on it, something gets lost," Bramnick said of the legislative efforts around the state to aimed at fostering small business. "But come down here and Farmer John will tell you the truth."
All three Republicans bemoaned the state regulations they say are stifling business in New Jersey, with Bramnick again calling on legislators to put a "one year freeze on mandates, new regulations, new restrictions" for small businesses in the state. It's the third time he's done so, having traveled in recent weeks — once in Atlantic City and later in Middlesex County — to call attention to job creation and smarter economic policies for businesses.
"I have a new mandate," Bramnick said after the tractor wheeled into the parking lot following a tour of the farm, complete with stop where everyone got off to pick apples. "Every legislator in Trenton should come down here and go on a hay ride, then we should go to an urban center, then we should go to Sussex County, then we should go to Bergen County, then we should go to Cape May County."
Both former Burlington County Freeholders, Brown and Addiego commended Bramnick's leadership on the issue, and emphasized its importance here in Burlington, a largely rural county where agriculturally-based businesses like Johnson's speckle the landscape. It's an especially pertinent subject this season, considering seats on both the county and district level are in play in November.
Freeholder Director Bruce Garganio — who was invited to today's presser but had a meeting with the Board of Public Utilities, according to Addeigo — is running on the Republican ticket with former Medford Councilwoman Mary Anne O'Brien against Democratic challengers Tom Pullion and Mike Schmidt. On the congressional level, Tom MacArthur, a Republican businessman from north Jersey, is in a grueling battle with Democrat Aimee Belgard, also a Burlington County freeholder.
The MacArthur-Belgard race has drawn considerable state and national attention in recent weeks, partly because it's one of the more competitive contests this election year. Asked by PolitickerNJ if the Republican had their support in South Jersey, particularly given his out-of-district roots, all three legislators put their unwavering faith in the candidate.
"I know Tom as a businessman, I've seen him speak, I've seen him in action," Brown said, with Bramnick and Addeigo echoing the sentiments. "He's definitely got the vision, he's come out with a 9-point plan to create jobs. I haven't heard anybody else talk about jobs out here. You've got these erroneous videos depicting him as this terrible, evil business owner, but yet he wasn't even a part of those situations. And yet he's out there talking about jobs, talking about defense, keeping our nation safe, and the other side wants to talk about how terrible a person he is because of some company that was maybe owned by him, but wasn't, denied someone's insurance claim."
"I'm a big fan of success. He had some big success in the private sector, and I don't think that's a bad thing," Bramnick added.
Johnson noted that MacArthur had visited the farm a few weeks earlier, and expressed his excitement about having the Republican represent the district.
"What's great about Tom is he has a willingness to learn and to understand, and then to articulate a problem as well as a possible solution," Addiego said.