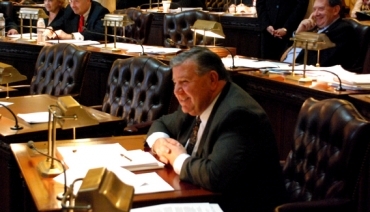 TRENTON – Citing his experience as a business owner, veteran Senator Tony Bucco (R-25) criticized a bill (S-1717) which would prohibit an employer from taking any adverse employment actions against an employee who is unable to actively work or perform regular duties at the employer's place of business due to a declared state of emergency.
"I own a manufacturing business," said Bucco. "None of my employees have skin in the game. I sign personally my line of credit. I have to make the decision whether I keep my business open. I don't think the legislature is the one that should be making this decision. …I look at it as a business owner."
The Senate Labor Committee debated the bill this morning and passed it by a vote of 4-1.
Only Bucco opposed the bill.
Sponsored by Senator Peter Barnes (D-18), S-1717 also prohibits an employer from requiring an employee to use any sick, personal, or other leave, paid or unpaid, for an absence from work due to a state of emergency.
The bill also provides that an employer who violates the provisions of the bill will be subject to a civil penalty in an amount not to exceed $5,000 for the first violation and $10,000 for each subsequent violation.
After initially struggling with the bill, state Sen. Dawn Addiego (R-8) said she discussed the legislation with Barnes and came to see it as reasonable.
"This has really been narrowed down to a very tight situation," said Addiego, noting that the bill would apply only when the Governor of New Jersey declares a State of Emergency.
Senate Labor Committee Chairman Fred Madden (D-4) likewise defended the bill and its recent spate of what he cited as improving amendments.
Bucco was unconvinced.
"This is strictly a business decision," he said. "Why do we have to dictate to businesses? We should not be the negotiating team for the employer or the employees."
Bucco owns a glue manufacturing business.
Stephanie Riehl of the New Jersey Business and Industry Association quibbled with the bill's language, noting a list of exemptions that "doesn't address all the businesses that provide goods and services in times of need."
SEIU supports the bill but not the amendments, decrying the exclusion of medical personnel.
While concerned about elements of the bill, Burlington Republican Addiego today voted the bill out of committee along with Democratic senators Madden, James Beach and Joe Vitale, reserving the right to oppose it on the floor if unsatisfied that all the amendments don't make it into the revised version, she said.