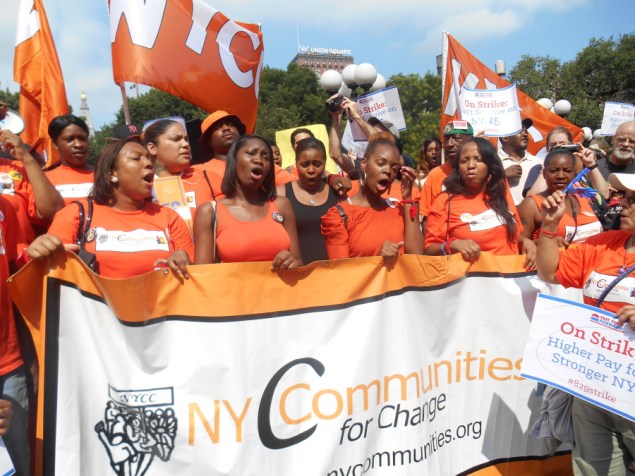 New York Communities for Change, a left-leaning group closely allied with the labor-backed Working Families Party and the de Blasio administration, yesterday endorsed Latrice Walker to replace convicted ex-Assemblyman William Boyland Jr.–rejecting the WFP's favored candidate, Lori Boozer.
NYCC–a coalition of minority neighborhood groups that grew out of the ashes of the Acorn–said it decided to support Ms. Walker because of her years of experience working as a liaison for Congresswoman Yvette Clarke. The group added that it believed she would push for its key issues of preserving and creating affordable housing and improving tenant protections.
"This will be our final endorsement for next week's primaries and we couldn't think of a more deserving and qualified candidate than Latrice Walker," said NYCC Executive Director Jonathan Westin, noting that NYCC has a heavy presence in the impoverished neighborhoods that make up the Brownsville-based district. "Latrice Walker has worked with NYCC members for more than a decade on issues like affordable housing, and she will be a key player in Albany in fighting to strengthen rent laws. She has strong support from colleagues, clergy and labor, and has a background rich in fighting for the people of that district – as well as all of Brooklyn."
Ms. Walker promised to work with NYCC on their core objectives after being elected.
"I look forward to continuing in NYCC's legacy of advocacy, organizing, and more importantly, action, as a member of the New York State Assembly," said Ms. Walker. "I am deeply honored to have received this endorsement and am humbled by all of the hard-work and dedication that I've received."
WFP–which shares a Brooklyn address with NYCC–is supporting housing advocate Lori Boozer for the seat, which has sat vacant since Mr. Boyland was convicted earlier this year on corruption charges. Ms. Boozer also has the backing of 1199 SEIU, one of the key unions in the WFP's labor coalition and a close ally of Mayor Bill de Blasio and the City Council's dominant Progressive Caucus.
She also today picked up the endorsement of immigrant rights group Make the Road, which has collaborated with NYCC and the WFP in the past.
Ms. Walker, however, has the backing of another WFP ally, Public Advocate Letitia James–whose campaign last year Ms. Walker served on as treasurer. Ms. Walker also enjoys the support of Ms. Clarke and of central Brooklyn power broker Una Clarke–a former councilwoman and mother to the congresswoman.
Councilwoman Laurie Cumbo, Councilman Robert Cornegy, former Councilman Albert Vann, Transit Workers Union Local 100 and neighboring Assemblywoman Annette Robinson have also all come out behind Ms. Walker.
WFP did not immediately respond to requests for comment.
Also running are Councilwoman Darlene Mealy aide Ineisha Williford and Anthony Jones, who had a strong showing when he ran against Mr. Boyland in 2012.