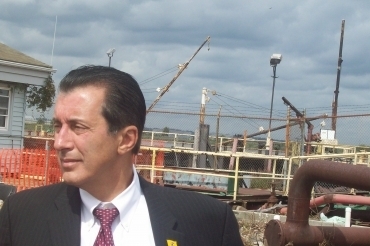 Assembly Deputy Speaker John Burzichelli (D-3) wants federal and state prosecutors to investigate the possibility of criminal charges against Conrail in the aftermath of a 2012 derailment that forced the evacuation of Paulsboro.
In a letter sent to both the U.S. Attorney's Office and the state Attorney General, Burzichelli cited a report by the National Transportation Safety Board (NTSB), which determined that Conrail's failure to repair a defective locking mechanism on the bridge, coupled with its failure to properly train rail crews to inspect the bridge, likely caused the accident.
"I respectfully call upon you to review the NTSB report and conduct whatever additional investigation may be warranted, with an eye toward pursuing potential criminal charges to address what appears, at a minimum, to be negligent conduct on the part of Conrail in failing to properly maintain and inspect the bridge," Burzichelli wrote.
The November 2012 derailment occurred when a southbound Conrail freight train derailed while crossing a moveable bridge over Mantua Creek. Four rail cars – three containing vinyl chloride and another containing ethanol – toppled into the creek. An estimated 200,000 gallons of vinyl chloride were released into the atmosphere, forcing the evacuation of hundreds of residents, closing area schools and sending dozens to the hospital.
"The report reveals that the railroad company did not implement these basic safety precautions, in spite of the fact that the bridge regularly experienced problems with its locking system," Burzichelli noted. "In the year prior to the accident, the lock had malfunctioned twenty-three times; a shocking eleven malfunctions occurred in the month leading up to the accident. The NTSB's report raises significant questions about Conrail's level of culpability in the accident. Certainly, the company did not exercise the level of care that those who live and work along the rail line deserve."
Burzichelli also noted that Conrail's own engineering consultant advised it to close and lock the bridge, but Conrail ignored the recommendation.
"Dozens of civil suits have been filed on behalf of Paulsboro residents, many of whom continue to suffer health consequences nearly two years after the accident," Burzichelli wrote. "In addition, my understanding is that there are provisions under federal and state law that could apply to hold criminally accountable those whose recklessness or negligence precipitated this accident."