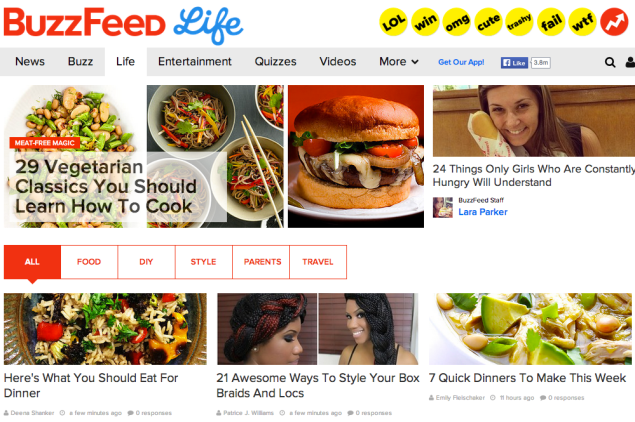 BuzzFeed Life has made its first hires since it announced, back in August after getting $50 million in venture capital funding, that it would ramp up its service-y lifestyle vertical and hire an additional 25 staffers.
The lifestyle section, run by BuzzFeed founding editor Peggy Wang and Emily Fleischaker, who left BonAppetit.com in 2012 to start BuzzFeed Food, bolstered by Pinterest traffic, is like a traditional women's service site aimed at the company's demographic. It's heavy on quick recipes and DIY advice, often in list form (examples of recent posts: "27 Marshmallow Treats That Are Even Better Than S'mores" and "18 Things All Girls Who Only Shop In The Sale Section Understand").
Here's a list (because people like lists, right?) of the four new hires:
Women's Health's website director Carolyn Kylstra has been named health editor atBuzzFeed Life, where she will be in charge of health and wellness, fitness, sex, and relationship coverage.
Alison Caporimo who will be a senior lifestyle editor for the section, focusing on DIY. A co-author of InstaCraft: Fun and Simple Projects for Adorable Gifts, Decor, and More, Ms. Caporimo has an "expertise in fast and easy DIY projects" and "can usually be found making jewelry out of her small home studio or working on her second book," according to BuzzFeed.
Rachel W. Miller will also be a senior lifestyle editor, with a focus on wedding coverage. Ms. Miller has been the editorial director of wedding startup Lover.ly since 2013, when the wedding startup site made a push into editorial content.
RollingStone.com production manager Catherine Fuentes, who helped with the Gus Wenner-led digital relaunch, will be the managing editor for BuzzFeed Life.