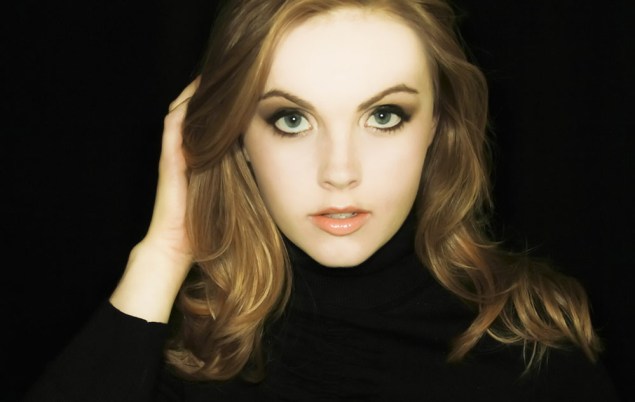 Singer-songwriter Cassandra Kubinski exudes undeniable star-power onstage. Whether pouring out her soul in a heartfelt ballad, parodying Nicki Minaj's "Anaconda," or delivering eloquent meditations on self-discovery, Ms. Kubinski treats her audience to a wild ride of passion, pain, humor, reflection, and renewal with every performance.
"Individuality inspires me a lot as a theme," said Ms. Kubinski, a sentiment that's not just a theme for her music, but extends to her songwriting. While Ms. Kubinski often describes her work as "theatrical pop," the truth is that her music defies genre. A recent concert at Rockwood Music Hall showed this off to stunning effect, with Ms. Kubinski weaving elements of reggae, hip-hop, Broadway, and country in and out of her pop repertoire.
With such an ear for pop song craft, it's no surprise that Ms. Kubinski, who's been singing since the age 2, found a kindred spirit in that ultimate genre-busting bard, Billy Joel. In 2008, the icon was forwarded a link to Ms. Kubinski's song "Cradle the Moon," and after sending a representative to scout her, arranged a meeting and a casual but invaluable friendship began.
"Billy's music has been a huge influence on me my entire life," Ms. Kubinski said. "Later on I started identifying what it is about his work that's so magical. The melodies are evocative and catchy; the lyrics always tell a story. It felt theatrical to me. I loved that … [Billy's] allowed himself to be a total romantic and a total asshole sometimes in his music, to jump from one kind of song that says, 'Screw you,' to another that says, 'I'd give up anything for this person.' "
Overall, Mr. Joel has been more muse than mentor to Ms. Kubinski (her "New York, I'm Home" feels like a female version of his edgier odes to the city), but his continued encouragement has sparked some creative conversation: "[Often] we've just gotten together to talk about music, but at a certain point he sent me lyrics for an idea he had for a song. I came up with a concept [for] a duet called 'No Hard Feelings.' I'd love to collaborate more with him just because of his brain and heart—what a fun thing to mix those energies and see what comes up."
Of course, Ms. Kubinski is no stranger to collaboration. She and writing partner Lori Martini have had several songs featured on TV programs like Dance Moms, and her projects with guitarist Tony Daniels run the gamut from sweeping anthems to sketch comedy. (And if you think Ms. Kubinski's voice sounds familiar, you're right; she's also a prolific voiceover actress.)
"I used to hate collaborating," Ms. Kubinski admitted, "because I hated the pressure of having to be trapped in a room with somebody. But now I love it! In my work with Lori, she'll often come in with an idea and I'll guide us into the process of assembling the words and metaphors we put into the song. But the whole process is always different and it can happen anywhere. That's what I think is so amazing about songwriting. It's ever-present, and if you can learn to channel it in the direction you want, you can be an artist."
Artistic power lies inside all of us, should we learn to embrace our inner selves. Cassandra Ms. Kubinski certainly has—and the result is simply irresistible.
Cassandra Kubinski plays Brooklyn's Living Room on September 16, followed by a concert weekend in Washington, D.C. September 19-21.
[youtube https://www.youtube.com/watch?v=vHDMn4gdYnM&w=560&h=315]