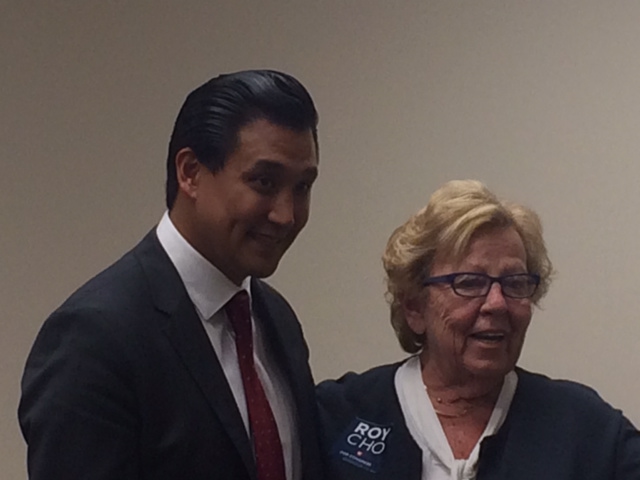 TEANECK – At the opening of his campaign headquarters in Teaneck, Democrat Roy Cho tore into the record of his Republican opponent in New Jersey's Fifth Congressional District, U.S. Rep. Scott Garrett.
"This is somebody who voted against the Violence Against Women Act reauthorization, against the Voting Rights Act and initially was against federal funding for Hurricane Sandy victims, on principle, because he was against aid for Hurricane Katrina victims" Cho said to a crowd of more than 100 people at his newly-opened satellite headquarters on Cedar Lane. "[Garrett voted] against raising the minimum wage, against the extension of unemployment benefits, against child safety locks on handguns and against reopening the [federal] government following the shutdown [in 2013]. All these issues should be important to you regardless of whether you are a Democrat or a Republican. These are American issues that affect the middle of this country."
Cho, 33, an attorney who lives in Hackensack, faces considerable odds against Garrett, 55, a conservative Republican with more than $3 million in his war chest. Cho, however, has raised close to $900,000 in campaign funds without the help of the Democratic Congressional Campaign Committee (DCCC) and put up his first cable television ad on Tuesday, before any Garrett ads have gone on the air.
State Senate Majority Leader Loretta Weinberg (D-37), a Teaneck resident, noted in her remarks that the addition of Democratic-trending municipalities such as Hackensack and most of Teaneck to CD 5 after the 2010 redistricting could change the game for an aggressive Democratic candidate.
"It is that Bergen County portion that is going to change the dynamics in this upcoming election between Roy Cho and the other unnamed person," said Weinberg about the district, which includes a few Passaic municipalities and most of Warren and Sussex counties. "Conservative is too kind a word to give to him. He has voted no on every single human rights, progressive, thoughtful issue that comes before Congress, and he is one of the main reasons that Congress is as dysfunctional as it is. We are represented by someone completely out of touch with the people in this room. [Garrett] makes [New Jersey Gov.] Chris Christie look like a liberal."
The Garrett campaign did not immediately respond to a phone call seeking comment. But on Tuesday, Cho continued his campaign to unseat Garrett by placing the Garden State race within a national framework.
"We have an opportunity this election cycle to show the rest of the country that the Tea Party has no place in northern New Jersey. Despite people telling me that this is an uphill battle, I tell them this country was founded by underdogs," Cho said. "We have a moral obligation to help people in this country move up, and it's in our collective self-interest to do so."