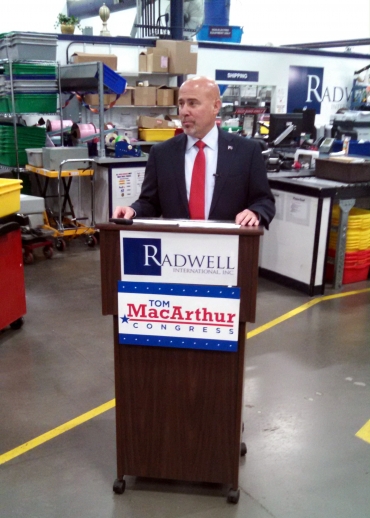 CD3 candidate Tom MacArthur went up on cable television this morning with a new ad proclaiming the need for bi-partisanship and highlighting a humble professional beginnings biography.
"I strongly believe that in order to get Americans back to work, and get our country working again, Congress must work together," said the Republican candidate running to succeed retiring U.S. Rep. Jon Runyan (R-3).
The ad surfaces a week and a half after MacArthur clubbed Democratic opponent Aimee Belgard with a negative network ad blitz.
This time it's all sweetness and light.
"For too long, politicians of both political parties have been more interested in sound bites and passing blame than actually getting anything done," said MacArthur. "I have a demonstrated track record that includes creating and preserving thousands of American jobs, balancing budgets as a Mayor and Councilman, and running a family foundation with my wife that has helped survivors of Hurricane Sandy, wounded warriors, disabled children and young pregnant women and their babies."
Watch the ad here.