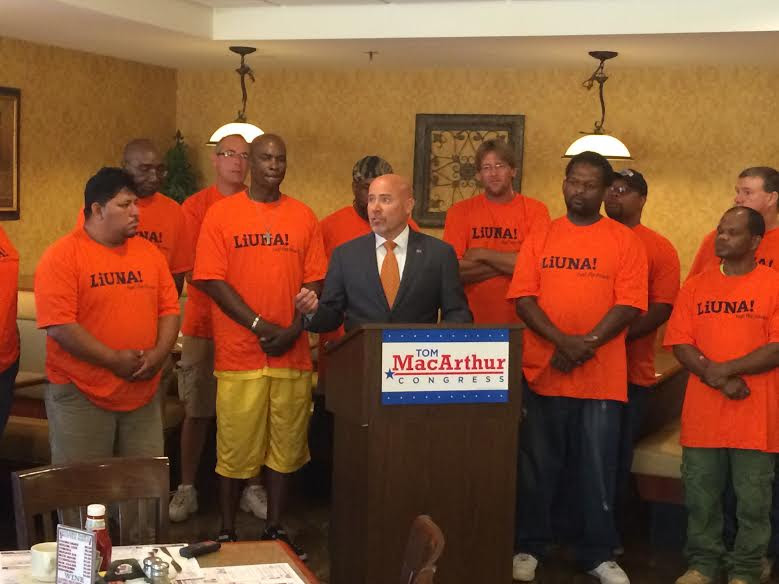 EDGEWATER PARK – Standing in a diner deep in the behind-enemy-lines territory of his CD3 competitor Aimee Belgard, a freeholder here in Burlington County, Republican hopeful Tom MacArthur today accepted an endorsement from the American-Canadian Laborers' International Union of North America (LIUNA).
"Whether it's securing the future of the Joint Base and the tens of thousands of jobs that depend on it, or helping the people of Ocean County rebuild from Hurricane Sandy, or ensuring every person has the opportunity to build a better life for them and their families, I pledge to work with people in both parties, find common ground and solve problems," MacArthur, flanked by workers of the half-a-million member union wearing LIUNA emblazoned t-shirts, said. "I am honored and humbled to receive the endorsement of the Laborers today. I look forward to working with them to bring local jobs to the Third Congressional District."
Announced during a press conference at the Golden Dawn Diner on Burlington Pike Road, the endorsement kicked off the candidate's fall campaign season, as MacArthur, a Republican businessman and former Randolph mayor, tries to win the district's seat against Democratic contender Belgard. Both campaigns have been racking up endorsements ahead of the November general, with Belgard receiving support from organizations like the National Committee to Protect Social Security and Medicare, and MacArthur from organizations like the International Union of Operating Engineers Local 825.
Today, however, MacArthur said his ability to win support from organizations not usually friendly to Republicans, like LIUNA, speaks to his "cross-over appeal."
"We're here today because we need leaders in Washington, like Tom MacArthur, who will work with people in both parties and build a consensus behind policies that help to create jobs and rebuild America's middle-class," Tony Capaccio, President and Business Manager Construction & General Laborers' Local 172, said at the presser. "Tom came from modest means and worked hard to build a successful business. He believes that we must invest in America and American families, and our members will work hard for him in this campaign."
Belgard and MacArthur are vying to replace retiring U.S. Rep. John Runyan, the former NFL star who wrestled the seat out from under the late John Adler, a Democrat. Carl Styles, Business Manager of the Building Construction Craft Laborers Local 77, said those candidates belong to a legacy of strong leadership in the district that they hope their own candidate for this year's race will continue.
"This district has been blessed with strong leaders over the years, from Jim Saxton to John Adler and now Jon Runyan," Styles said. "We strongly believe that Tom MacArthur is the best candidate to carry on this legacy and ensure that all families who call Burlington and Ocean Counties home have a fair shot at realizing the American Dream."
Not only does the endorsement also comes amidst heavy campaign by both the Belgard and MacArthur campaigns, but it also arrives on the same day that the Belgard-aligned Democratic Congressional Campaign Committee dropped its second ad of the season attacking the Republican candidate. The DCCC has dumped $1.3 million in media buys into the district between now and November, hoping turn the tables on the wealthier MacArthur, who told PolitickerNJ earlier this month that he'll spend "whatever we need to invest to get our message out."
"It's clear with this endorsement that Tom MacArthur is a bi-partisan leader who is interested in getting results," MacArthur For Congress spokesperson Frank Luna told PolitickerNJ, referring to what LIUNA's endorsement means for the campaign. "Once he gets to D.C. Tom is going to be someone who is focused on solutions and not finger-pointing. I don't know that Aimee Belgard can say the same."