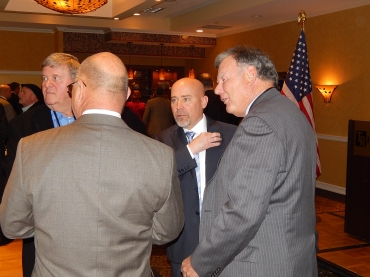 TRENTON – The New Jersey State PBA today announced their endorsement of Tom MacArthur for Congress in the 3rd District.
"Tom has impressed us with his track record as a leader in business, his willingness to listen and bring people together, and his ability to get things done. He has not only met with State PBA leaders, but also local PBA Presidents and Delegates and we know he will truly stand up for law enforcement officers in Congress. I am proud to announce our endorsement of Tom MacArthur and look forward to working with him once he is elected," saidNew Jersey State PBA President Patrick Colligan.
"At a time when politicians of both Parties are more concerned with sound bites and passing blame, we know that Tom MacArthur will go to Washington and work tirelessly – with both Republicans and Democrats – to honor the hard work and sacrifices law enforcement officers and their families make on a daily basis," he added.
"I am humbled and honored to receive the endorsement of the New Jersey State PBA. These brave men and women put their lives on the line every time they go to work and I look forward to working on their behalf once I am elected to Congress," Tom MacArthur said in receiving this endorsement. "As Mayor, I made sure that the new police contract we negotiated treated officers fairly, encouraged the police force, and lifted morale. We ensured that veteran officers were properly rewarded for their years of service, while offering an attractive package to new recruits. While I was Mayor, we also built our police force back up by hiring new officers to replace retirements from previous years so that we could maintain an appropriate number of law enforcement officers to keep our neighborhoods safe.
"As an Edgewater Park Township Committeewoman, my opponent voted to authorize the layoffs of police officers,' said the Republican, referring to Democrat Aimee Belgard. "Even worse, she did it while violent crime rates were rising in her town. In what is becoming a troubling pattern of deception, when Belgard was confronted with her vote, she claimed it never happened. However, The Burlington County Times reported two days earlier that Belgard did, in fact, vote in support of the specific resolution authorizing the layoffs."