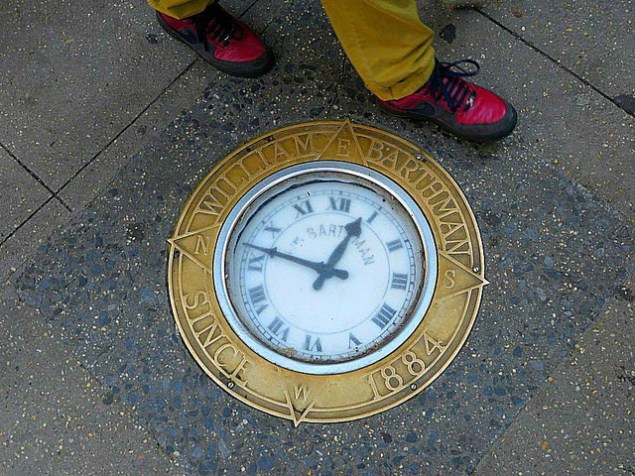 On the corner of Maiden Lane and Broadway in Lower Manhattan, there is a clock embedded in the sidewalk which many of the estimated 15,000 people who step on its face during peak hours may not notice. Nevertheless, jewelry retailer Barthman–whose founder, William Barthman, designed and installed the original clock in 1899–is proud of the landmark clock's everlasting effect on the street.
Originally a three-window jump hour clock, Gothamist reports that it once functioned as a type of advertisement for Barthman's shop, which sat in the former center of the city's jewelry district. It took over two years to build and required regular maintenance due to vibrations caused by the busy city. The clock was even illuminated from underneath at night–part of the innovative design by Barthman and his employee Frank Homm.
After Homm's death, no one in the shop knew how to operate the sidewalk clock, and it fell into shameful disrepair. Richard Granatoor, the general manager for William Barthman Jewelers was interviewed by Hodinkee for a special video feature. He told them, "The clock never told time. They would actually go out in the morning and cover the clock with a piece of cardboard so that they weren't embarrassed by the non-functioning clock that they had in the sidewalk."
Eventually the shop replaced the clock entirely. Around 1940, Barthman installed a traditional clock and, apart from a few modifications, it is the clock that can still be seen downtown today, which was documented and immortalized by photographer Ida Wyman in 1947 and lived through the September 11, 2001 attacks just a few blocks away.