"Does this dick make my ass look big?" Bridget Everett roars as she sashays toward the stage at Joe's Pub. Dressed in a custom-made, boob-accentuating, bodysuit by Larry Krone's House of Larréon, she wipes off beads of sweat with a towel while swigging from a brown-bagged bottle of chardonnay. Suddenly she tears off the bottom half of her costume to reveal a dildo hanging from her backside. The audience explodes.
And this is only a dress rehearsal.
Last year, with the financial assistance of the National Endowment for the Arts, Joe's Pub commissioned cult alt-cabaret singer Ms. Everett to create Rock Bottom, a show that began a five-week run at the Public Theater September 9. Co-written by Tony-winners Marc Shaiman and Scott Wittman as well as Beastie Boy Adam Horovitz and Matt Ray, Rock Bottom includes songs like "I'm in Love With a Married Man," which pays reverence to Chris Martin, and "Let Me Live," an ode, Ms. Everett said, to all her aborted babies. It also includes more introspective, melodious material ("Why Don't You Kiss Me?") and uses more ambitious arrangements, with backup singers and a band.
I meet her for iced coffee and turkey sandwiches on a humid afternoon the day after a raucous, sold-out show with her band, the Tender Moments. Her daytime alter ego meets me in a modest black maxi dress and flip-flops, dripping sweat.
Ms. Everett's voice has a hint of the Midwest, and sounds like a phone sex operator crossed with the narrator of a children's novel. "It can't just be tits and dick for an hour," she said. Besides belting out raunchy "club bangers," she also soberly tells stories about her dead father and sister, her mother's failed Broadway dreams, and growing up as a tomboy choir girl in a family of six in Manhattan, Kansas.
"I think it's important to share all sides, without making it a clichéd 'one-woman show.' I want it to be like a party, but not like you got trapped in the corner with the drunk party girl," she said. "I want people to feel like they've made a friend." A very close friend: when she's onstage, anyone in the audience is at risk of being used as a prop. At Joe's Pub, the subversive 42-year-old kissed a 17-year-old girl and sat on a man's face, among other highlights.
Ms. Everett didn't always exhibit the confidence she does today. Five years ago she began playing softball in McCarren Park with "Team Pressure," a squad whose members include Mr. Horovitz, rapper Neal Medlyn (also known as Champagne Jerry) and well-known New York comedian and burlesque-scene celebrity Murray Hill.
"After a game one day we were going for egg sandwiches," said Ms. Everett, "and I told Adam this idea for a song: 'You got them little nippy titties, put 'em in the air.' He said, 'That sounds like a hit. Go home and write it.' I was like, 'I don't know, I don't really feel like a writer.' But when a Beastie Boy is telling you you have a good idea, you listen."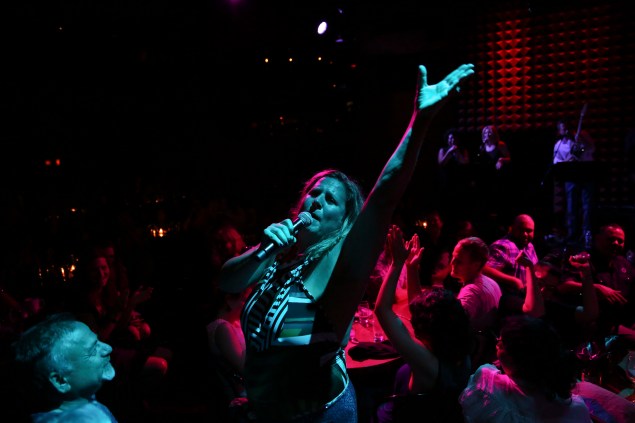 ***
SEVENTEEN YEARS AGO MS. EVERETT CAME to New York from Arizona, where she'd attended the state university on a choral scholarship. She spent a decade waitressing at Ruby Foo's in Times Square and still serves tables from time-to-time, though not a soul knows where. She also takes work entertaining private parties.
"Murray Hill and I did a Christmas party for corporate people," she says. "I said, 'Are you sure they want me? Can you double-check, because that sounds like an HR nightmare.' I did some party in some very wealthy person's home, and you know I like to move around—I almost knocked over what I think was a Ming vase, and I remember the blood draining out of everyone's faces. I was like, 'O.K., I'm just going to keep singing.' It was only funny because it didn't break."
Mr. Medlyn became acquainted with Ms. Everett when both were regulars in Automatic Vaudeville at Ars Nova, a musical comedy venue. He says he knew he had encountered a rare force.
"Bridget does things that should make people feel uneasy," he says, "yet they are thrilled, elated and empowered. That is something I've never seen. Instead of just shocking people, [she] makes the audience feel like they are in on it—that she and the audience are on this fucked-up road trip together, drinking in the car, singing along with dirty songs, and feeling free and alive."
That inclusiveness owes much to Ms. Everett's casualness about being naked onstage, which she attributes to "reverse body dysmorphia," a condition of total self-acceptance she had to reach in order to carve a place for herself in showbiz. If she didn't learn to celebrate her body, she says, she never would have succeeded.
"I wasn't a Broadway chorus girl, I wasn't an actress, and physically I can't think of anybody successful who looks like me," she says. "There wasn't anyone to emulate. I had to write for myself to give myself a job, because there were no jobs available. I created my own destiny, as corny as that sounds."
"Bridget puts herself out there, sometimes in a painfully vulnerable way," says Murray Hill, summing it up, "but [she] always comes out the victor of her own battle."