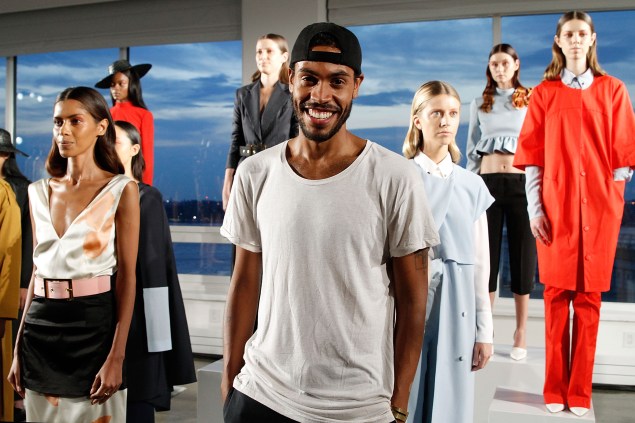 After refining his craft in the design studios of Michael Kors and Jack Spade and in the art classrooms at North Carolina State University, Charles Harbison is gaining traction in fashion circles for his razor-sharp intellect and clean aesthetics. His collections, launched last year, operate like a fashion index, accessing a range of ideas across time and place, ultimately fusing those stories and rendering them in unfussy fabrics, modernist lines and strong geometry—with the occasional clawed gold glovelet thrown in. "I like to design for a woman who embraces her contradictions," he said.
In fashion and art, we often use "emerging" or "new" to describe a designer starting out. Do you think this idea limits a brand's impact on the market and style trends?
The industry is interested in the new guard of the luxury sportswear and high-end design market. On the whole, I think most editors, buyers, and the press want to watch a designer grow and succeed.
Your collections are structured around specific thematic elements taken from popular music, contemporary art and cultural histories. Your first collection was an ode to Modernist architecture, Brice Marden and Patti Smith. In your collection notes for fall 2014 you list Sade, Pocahontas and Romanticism, strung together like an inspirational composition. How have you conceived your next collection?
I keep a specific narrative in mind when I design. For spring I was inspired by Pannonica de Koenigswarter [a member of the Rothschild family and patron of Harlem jazz and bebop musicians in the 1950s]. Her bravado is what the Harbison woman represents for me. Erykah Badu also inspired me with her beauty and earthy eccentricity. The fabrics I have chosen recreate moods from works by Brice Marden. His color palette is also represented. Japan is another reference seen in fabrics I have chosen such as silk mikado.
Do you imbue each of these elements into a single design or use them as a point of departure for the entire collection?
Honestly I try to connect to each of the elements as I am designing overall. I don't like literal interpretations because they don't seem fresh or new. If I can channel the essence of Badu, the ease of Japan, the abandon of Pannonica and the rigidity of Marden throughout the entire collection, I prefer that. 
Your mood board pictures collections from Yves Saint Laurent pre-Hedi Slimane. There's a blue double-breasted pinstripe suit with full trousers that looks fresh and new today.
It resembles a zoot suit. With this collection I would ask myself what would an Yves Saint Laurent collection look like today. To my mind, he designed clothes that gave women a sense of dignity.
Fashion designers often create clothes for a lifestyle or have an image of an iconic woman at their core, how does that sit with you?
My collections have an intellectual skew and touch of irony. I like to design for a woman who embraces her contradictions. Woman forward is my motto!
You recently moved your studio from Brooklyn to Manhattan. Has this changed your working process or impacted your identity?
Design is really an extension of my personal self and Brooklyn is definitely my cultural hub. Having a location in Manhattan is a good move for me practically, though. It's easier to carry around bolts of fabric and samples.
What does it take to be a designer in today's market and where do you see your niche?
I am very invested in having a fashion design company. The only way for me to figure this out is to acknowledge there is power in vulnerability. I am fostering direct-to-client initiatives by holding a series of dinners with creative women to learn more about how the model of a design business can work in New York.
There is a social ethos imbuing the Harbison brand. Looking at pieces from the fall collection in your studio I was reminded of an exhibition this spring at the Studio Museum in Harlem titled "Draped Down," looking at black style as it is represented in visual art. How important to you are cultural issues surrounding race and identity?
I am cognizant of my heritage and of my maleness. I want to serve women in these clothes as a means to empower. My mom is an inspiration. How she navigated the world as a black woman empowered me. The collection reflects that and there is a queer ethos, too.
You mentioned a touch of irony in your
designs, how does that manifest in the
market place?
For me, there is equity in
gender dynamics. Guys also want to wear
the outerwear.