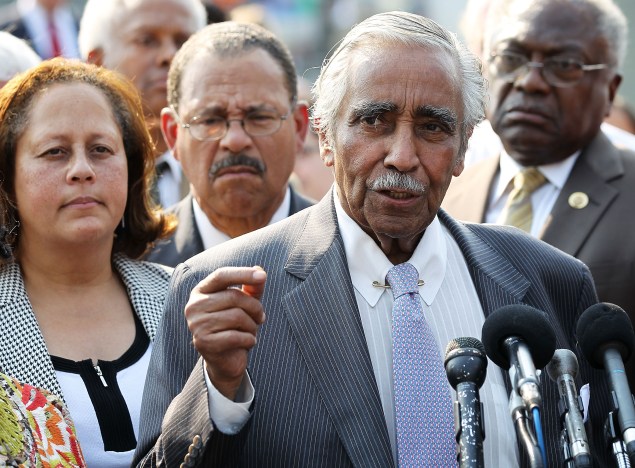 Congressman Charles Rangel doesn't think a certain powerful Harlem reverend will get to crown the next attorney general.
Mr. Rangel, a longtime Harlem lawmaker who has feuded with Rev. Al Sharpton, disputed Mr. Sharpton's claim that he would have a say in picking Attorney General Eric Holder's successor.
"I assume there are a lot of people that would be advising president as to who the next attorney general will be. I haven no reason to believe that Rev. Al Sharpon would be included in that number," Mr. Rangel told the Observer in an interview today.
Mr. Rangel, an attorney by trade, took a dig at Mr. Sharpton's lack of scholarly credentials.
"I think this has to do with the Constitution, with the law, with jurisdiction, not as much with emotion and passion," Mr. Rangel said. "This is a very vital constitutional position. I would hope someone familiar with the opportunities and limitations on the post [would decide]."
The congressman added that he was certain President Barack Obama, once a Harvard law professor, could make an informed choice. "Having gone to Harvard, having been a constitutional professor, I am confident the president will listen to everybody and will make a judgment based on what's good for the country."
After Mr. Holder announced yesterday he would resign the post he has held since 2009, Mr. Sharpton blasted out a statement praising Mr. Holder and asserting he had entered into "immediate conversations" with the White House about Mr. Holder's successor.
"We are engaged in immediate conversations with the White House on deliberations over a successor whom we hope will continue in the general direction of Attorney General Holder," Mr. Sharpton said.
Mr. Sharpton's claim was not far-fetched: he has reportedly grown close to Mr. Obama, advising him on race relations. Mr. Rangel, on the other hand, is not as tight with the president, failing to win his endorsement as he sought re-election this year against State Senator Adriano Espaillat and a pastor, Michael Walrond, who hails from Mr. Sharpton's National Action Network. Mr. Sharpton also declined to back Mr. Rangel.
Like Mr. Sharpton, Mr. Rangel had mostly praise for Mr. Holder, an attorney general known to speak openly about racial discrimination in America.
"Perhaps he could have philosophically used a different word than 'coward' when he said that America does not face up to the problem of race relations in this country," Mr. Rangel said, referring to Mr. Holder's controversial 2009 speech. "But no philosopher, no historian, no person of spiritual belief can challenge the fact that the stigma of slavery has gone far beyond the Emancipation Proclamation."
Mr. Sharpton pushed back on the notion that he had ever even implied he was going to have a role in the selection process.
"Like every advocacy group, we would say to the White house or City Hall, as you consider and deliberate, we would want to see in those deliberations, whoever you consider, someone who would continue work around voting rights and police misconduct," Mr. Sharpton told the Observer today. "I think both reporters and Mr. Rangel are trying to run with something that's not there."
Updated with comments from Mr. Sharpton