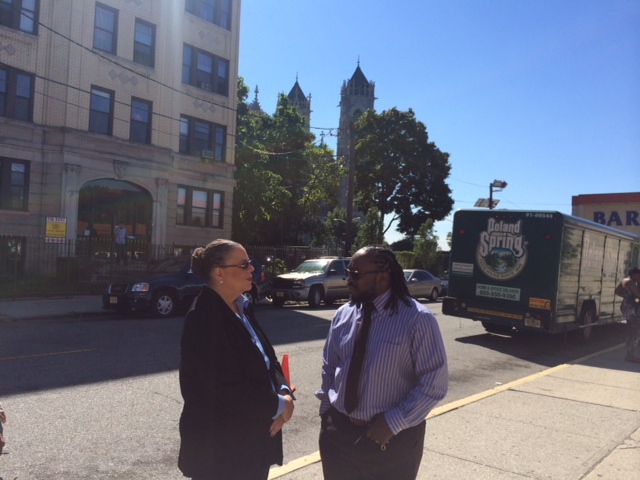 NEWARK – Chicago Teachers Union president and potential mayoral candidate Karen Lewis came to Newark on Friday for a series of meetings and seminars. But as she prepares for a possible run against incumbent Chicago Mayor Rahm Emanuel, the most important meeting in the days ahead is with one particular man: Newark Mayor Ras Baraka.
"I want to talk to [Baraka] about his progress – his move from the education sphere into the political sphere, and how he's managed that," said Lewis, a reference to Baraka's former job as principal of Newark's Central High School before he was sworn in as mayor in July. 
There are some considerable parallels between the careers of Lewis and Baraka. 
Lewis was the fiery leader of the Chicago teachers union during the 2012 teachers' strike, and she vocally opposed the closure of about 50 schools in mostly poor, minority neighborhoods of Chicago in 2013. 
Baraka was elected with strong public sector union support and on a wave of discontent emanating from the announcement of the One Newark school reorganization plan in December, six months before the May mayoral election  in Newark. 
The initiative includes the expansion of charter schools, which already serve approximately 20 percent of the city's students, as well as the closure or consolidation of certain public schools.
Newark's schools were placed under state control in 1995. Newark School Superintendent Cami Anderson was appointed to head the state-run Newark school district, New Jersey's largest, by Gov. Chris Christie in 2011. A wave of Newark public school student protests called for the removal of Anderson, as well as for the termination of the Anderson-backed One Newark plan, earlier this year. Anderson, however, had her contract renewed for three years by the Christie administration in June. 
Protests have continued this month as the One Newark plan was implemented with the start of the school year. The most recent demonstrations have been in response to problems stemming from a new open enrollment policy, part of the One Newark plan, that has led to a wide degree of anger and frustration among parents and students. 
"I do see what seems to me to be just basic chaos in schooling," said Lewis, moments after she toured Barringer High School in Newark's North Ward. "There are some very large classrooms, which clearly have not been leveled yet because they got more kids than they expected. Here, it seems like the outrage would stop at Chris Christie's feet. You can't separate the political from the pedagogical. If you have people making decisions who are neither transparent nor accountable, exceptwhen an election rolls around, then things clearly become political. Hearing about the protests, it's very clear that children are being politicized by this, as they should be." 
Although Lewis formed a campaign committee to begin raising money for a potential challenge against Emanuel last month, she faces a daunting challenge against the incumbent. According to the latest campaign reports, Emanuel, who served in the U.S. Congress and as chief of staff for President Barack Obama, has $8.3 million in his campaign fund, while Lewis has approximately $43,000 to date.
Despite this fiscal advantage, the outlook for a Lewis candidacy has some bright spots. The head of the American Federation of Teachers had pledged $1 million of the national union's money to help Lewis take out Emanuel if she runs. Recent polls by the Chicago Tribune and the Chicago Sun-Times have showed Lewis with a lead over Emanuel in a potential election showdown. 
Lewis declined to tell PolitickerNJ if she was ready to face off against Emanuel in Chicago's February mayoral election. But Lewis, a former chemistry teacher, pointed to Newark as a learning lab for the right formula for political victory. 
"Money doesn't vote, people do. I believe a lot of hedge fund folks dumped money into [Newark mayoral candidate] Shavar Jeffries' campaign. Baraka was outspent, but he won," Lewis said. "The key is how do you connect with people and the others that are important to them. That's what elections are about, ultimately."