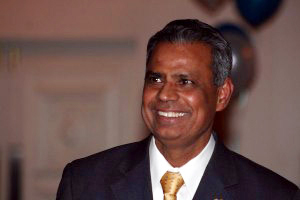 TRENTON – Assemblyman Upendra Chivukula (D-17) was riding high in spirits following this morning's news that Gov. Chris Christie has nominated him to serve as the state's next Board of Public Utilities Commissioner.
He beamed into a Senate Judiciary Committee hearing earlier to confirm with members his interview for Monday, when he'll return for a formal vetting.
"I take it as a great opportunity, honor and privilege, especially because I am probably one of the first South Asians to be appointed to the Board of Public Utilities," Chivukula, Chairman of the Assembly Telecommunications and Utilities Committee, told PolitickerNJ on his way out. Chivukula was the first Indian American elected to the Assembly and the fourth Indian-American in the country to be elected to state office.
He said he looks forward to the position, and rattled of some issues he hopes to tackled as new BPU commish.
"Well, I'm an engineer, so I think I could bring something to the table," Chivukula said. "I think there's a lot of things that need to be done from an energy perspective — hardening the grid, keep rate increases down for payers, creating jobs. Some of our energy infrastructure in this state is 10, 15 years old, and needs to be replaced."
Chivukula will appear in front of the Senate and Assembly Judiciary Committees next week to receive confirmation to the post. It remains to be seen whether the appointment will pass muster with state Senate Judiciary Committee Chairman Nick Scutari (D-22), a close ally of state Sen. Ray Lesniak (D-20), who was irritated when Chivukula partnered in this year's CD12 democratic primary with the senator's old antagonists, the members of the Elizabeth Board of Education.