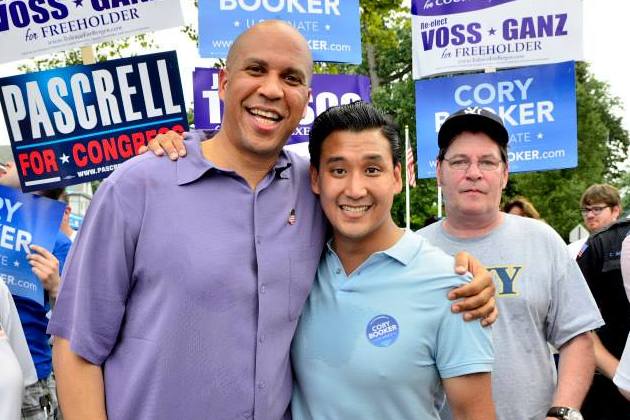 Talk to the people in Roy Cho world and they have a straight-ahead 2014 intent.
"Our plan, plain and simple, is to win in 2014 and for Roy to be running for reelection in 2016," said the CD5 Democratic candidate's spokesman, Derek Roseman.
But there's buzz behind the scenes in Bergen – as attorney Cho runs a well-financed and energetic campaign – about what he needs to do on Election Day in order to muscle anyone else out of the way two years from now who might have designs on the Democratic nomination in a balmier political climate.
The best past losing efforts against Garrett hover in the 42-44% range.
A presidential year, 2016 conceivably will give the CD5 Democrat the insulation of Hillary Clinton and that much more trampoline potential for a challenger to rough up incumbent movement conservative Scott Garrett in a district with 122,377 registered Republicans to 110,105 registered Democrats.
It's nothing personal against Cho, say intriguers in his own party as this race unfolds.
It's simply that Garrett irritates Democrats, and sources offer several circulating brand names who could be tempted to try to take him on if he runs again.
The trouble for Cho, according to one insider, is that if he comes within striking distance this year at a challenging time for Democrats, his strong performance in a loss could tickle the egos others, who will have a troubled time convincing themselves that it wasn't Cho's youth and inexperience that prevented him from winning – not a splendid candidacy that got him within striking distance.
That rumbling lends added significance to Roseman's point about winning now.
Team Cho doesn't want there to be any doubt.
Still there are others who could persuade themselves – whatever the outcome in two months – of the inevitability of a CD5 Democratic Primary.
Some Democratic Party brand names in the early mix with whom Cho could contend if he runs again – win or lose this time: Ridgewood Mayor Paul Aronsohn; Bergen Freeholder Tracy Zur; and former Clinton speechwriter Josh Gottheimer.
Aronsohn came close to running this time, sources say.
He and Bergen County Democratic Committee Chairman Lou Stellato had the sit down conversation over drinks last year. He was close to running then decided against it, disappointing Stellato, who was slow to fully embrace Cho.
Aronsohn ran in 2006 and was ready to run again in 2008 but for his personal life taking another direction with marriage. He lost 44-55% to Garrett – the best anyone's done against the man from Wantage – when the district was more Republican.
Cho has impressed observers with his work rate and fundraising ability. He's raised $800,000 to date, according to his campaign to Garrett's $1.6 million, according to the FEC, and has $390,000 cash on hand to the Republican's $3.2 million.
"In raising a million dollars this time and losing, will Cho be able to go back to his donors for another shot two years from now?" an insider wondered. "It's hard to go to the well twice but, yes, it's going to take a presidential year to beat Garrett, and it's going to take $3 million – either a self-funder and or someone who can raise the money."
Zur has the money and countywide cred.
Gottheimer has the national level contacts. When Clinton saw him at her Brgen book-signing this summer, she jumped out of her chair in friendly recognition, a source said.
Speaking on condition of anonymity, a Democratic Party insider said based on past performances by challengers in a different 5th district, pre-2011 redistricting, it's conceivable Cho can get to an unprecedented 48% against incumbent Garrett – and that handful of others, the insider said, will still be inclined to run or to explore seriously.
"No matter what," the source said, "there will be a 2016 primary."