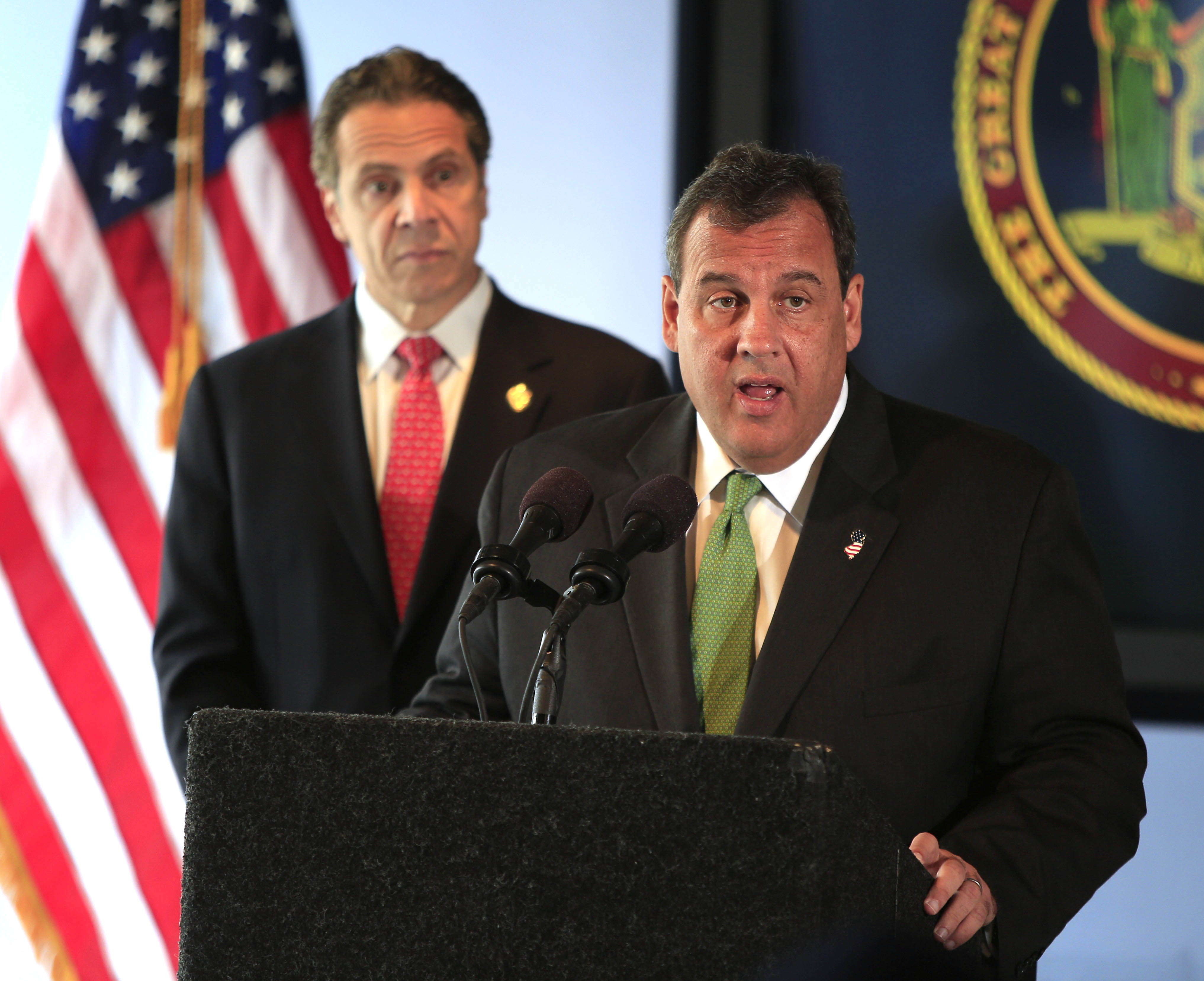 NEW YORK, NY – The Sept. 11th terrorist attacks that brought down this tower and others in 2001 rocked the world and sent the U.S. into a decades-long push to root out the groups credited with responsibility. But 13 years on, New Jersey and New York's governors say the threat of global terrorism persists — and now poses an even greater challenge to the region and country than it did before.
At a press conference this morning at 7 World Trade Center where the pair announced bi-state plans for mapping out an improved, coordinated security and safety strategy, New Jersey Gov. Chris Christie and New York Gov. Andrew Cuomo described a "new, more complex" global terrorism network facing the U.S. and the world, one discernibly different than anything that has come before.
"When it was Al Qaeda it was Al Qaeda," Cuomo said. "It was a group that was identifiable, it was a place that was identifiable. It's almost as if the terrorist threat has metastasized, it's grown larger in numbers. People estimate ISIS at over 30,000 people. So it is larger, more sophisticated, it has more resources, it's more complex than it was. And we are still one of the top targets, so for us, if anything, the challenge has grown."
The pair's comments come just two days after the U.S. began bombing targets in Syria as part of a new campaign to suppress growing militant networks there. One of those bombing strikes involved the Islamic State of Iraq and Syria, a group that has carved out territory in places like Syria and Iraq and which President Barack Obama described earlier today as orchestrating a "network of death" in the Middle East. The other involved Khorasan, an Al-Qaeda offshoot group that was said to have been planning an "imminent attack" on the west.
Christie and Cuomo — one a potential presidential contender in the 2016 Republican primaries and the other a Democratic incumbent up for re-election this November — said the diversity of these new networks are cause for concern, and outlined today an "unprecedented," collaborative undertaking to ramp up security measures in both states.
Among the actions that the states will begin to roll out or which are effective immediately include increased presence of uniformed and special operations officers in and around "critical infrastructure" and the "redeployment of marine and aviation assets around bridges and mass transit systems" on both sides of the Hudson.
"Obviously the circumstances of the world have changed and we've seen the United States take a very aggressive action against these terrorist networks across the world," Christie said. "Who knows what action will be taken next and what the reaction will be. And so I think from my perspective and from Gov. Cuomo's, we know this region that has great assets, great people, and because of that has been before, and could be again, subject to attack."
Cuomo, who was elected in 2010 but who served as U.S. Secretary of Housing and Urban Development in 2001 under then President George W. Bush, said New York is still adjusting to a "new normal" following the Sept 11 attacks. He said the threat of terrorism in the metropolitan region has not disappeared — indeed it has grown, calling for increased vigilance in preventing future attacks.
"It recalibrated our expectations, and our anxiety level," he said. "I think this is a reminder that this is a different world. This nation has enemies — enemies that are hell bent on our destruction."
Cuomo said the bi-state is part of that vigilance and that the response, when asked how long the two states plan on continuing the new security measures, "will be in proportion to the threat."
"If you ask me to look into a crystal ball, I don't believe this situation goes away. I don't believe tensions may be reduced — we hope they are reduced at one point — but do I think you're going to have a New York and New Jersey region that is free from a terrorist threat? No, I don't."
"We are now reacting I think quickly to the changing circumstances of the world, and if that circumstances changes again and calls for a further ramp up or a ramp down, we'll be prepared to do either," Christie said. "But we'll do that in reaction to what are the events that happen around the world, that for better or worse are outside our control."