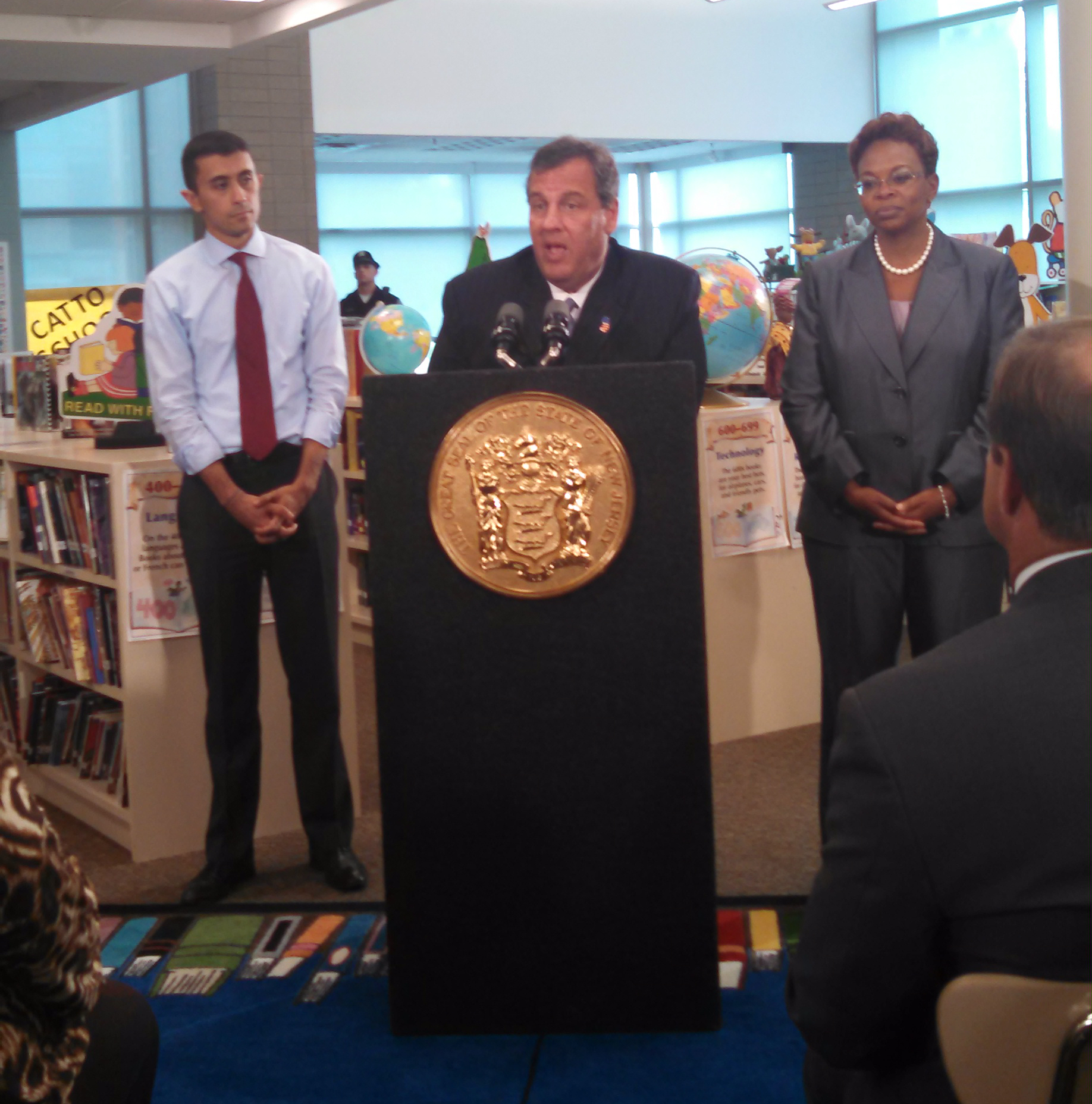 CAMDEN – Nearly a month after convening a special commission of experts to address the state's pension and health benefit system problems, Gov. Chris Christie today could not give an estimate as to when the panel might issue a report on the matter. He did, however, candidly state what he expects from them when they do, and brushed off the notion that the beleaguered fund spells "imminent danger" for current retirees.
"I'd like them to tell the people of this state the honest truth about the circumstances and the options that we have to try to address it, in the short term and the long term," Christie said. "And I suspect that's what they'll do."
Christie announced the creation of the panel back in August, shortly after he decided to cut some $2.4 billion in slated pension payments to help plug the state's nearly $1 billion budget deficit (now found to be even larger than anticipated). The decision sparked a wave of criticism from Democrats and public employees in the state expecting him to make good on his 2011 pension and benefit reform, a bi-partisan comprise between state workers who would contribute more into the system and the state which would make larger payments in an effort to cut down on liabilities. According to state estimates, the system is currently underfunded by nearly $40 billion.
Christie has maintained that the pension situation is not a dire as critics paint it, however, and his commission — headed Thomas J. Healy, a former Goldman Sachs executive who once worked for Ronald Reagan's treasury department — is tasked with coming up with an objective assessment of the fund and offers solutions going forward. Their first report is expected to be released sometime this month, though Christie today said he doesn't "check in with them on a regular basis."
They do have deadlines they're supposed to meet, he said.
"This is a long term problem," Christie said at a press conference at the Octavius V. Catto Family School in Camden, which he toured this afternoon. "The fact is that we're in no imminent danger at the moment of not making pension payments. We have 80 billion dollars in the bank. And last year we paid out about 8 billion dollars to retirees. So, even at the current level, with no investment return at all — we've had record investment return over the last four years, adding about 12 billion dollars above the assumed rate of return of 7.9 percent.
"So there's no imminent danger to current retirees, therefore there's no reason for us to rush on this. I want to make sure on the second iteration of pension and benefit reform that we take positive steps like we did on the first one," he added.
The troubled pension system is just one aspect of the state's finances that have dogged the governor in recent months. Last week, analysts at Fitch Ratings downgraded New Jersey's bond rating for the second time this year, citing the state's poor economic performance, overly-optimistic revenue forecasts and the pension cuts — the latter of which the rating agency said marked a "repudiation" of Christie's landmark pension and benefit reform in 2011.
Yet at another press conference yesterday, this one in Atlantic City, Christie said the downgrading is "not something that should leave [New Jersey citizens] awake at night or me."
"This is a rating agency that I think is being significantly over aggressive because they were being such bums in 08 and 09 and left everybody hanging out to dry," he said. "And so now they want to prove that they're not, because they're getting sued by everybody. I don't know about now, but they were just as inaccurate on the negative side as they were on the positive side 5 years ago. So I don't pay much attention to these guys."