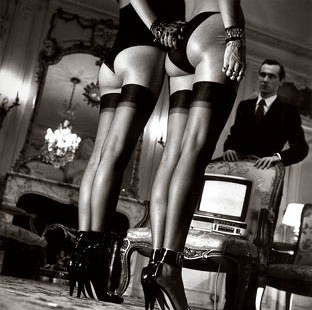 Office love? Tied up Torso?
Helmut Newton photographs carrying those provocative names–and featuring topless models–hit the auction block at Christie's this week, in public and online sales titled somewhat sensationally Triple XXX: Photographs From the Collection of Don Sanders.
Christie's has been featuring the Triple XXX auction online for some weeks with an attention-getting come-on: Potential buyers and window-shoppers are blocked from viewing the sometimes S&M-tinged images online, many of the
m previously published in Playboy magazine, by a red-and-black sign. "WARNING. Contains Explicit Content." Those viewers over 18, or who claimed to be, could click again and see everything.
Salacious appears to have paid off: Monday, a portion of Mr. Sanders's 10,000-photograph collection of (mostly) female nudes went up for sale. With numerous items in the collection described by Christie's photo specialist Laura Paterson as "extraordinarily rare," some bidding wars resulted.
The highest price of the auction was paid for a suite of images by Newton. Mr. Sanders's 1983 Private Property portfolio–created when the photography market was still very much in its infancy–boasts virtually all of Newton's 1973-1983 work including the iconic 1975 Elsa Peretti in a 'Bunny' Costume by Halston.
Perhaps best known as the face of Studio 54, Ms. Peretti told Vanity Fair last month that the photograph was taken while she and Newton were in the throes of an affair. "I went to my closet and came out wearing this costume I'd worn to a party with Halston. Helmut was flabbergasted. He took me on the terrace and took the photo. It was 11 A.M.," she said. A complete set of the images, the portfolio sold for $389,000. The estimate pre-sale was $250,000 to $350,000. All told, about two out of every three photos sold at Christie's big fall photography auction.
Words likes misogynistic and pornographic are frequently batted about when discussing Newton's photographs, but some argue the longevity of his career is down to the sheer beauty of his sleek depictions of powerful women poised on Manhattan rooftops or languishing in the South of France. Is this why Mr. Sanders, who describes the Playboy collection as "fabulous," collected so many nudes by Newton?
"I think women are beautiful," he said of the collection. "There are so many great photographers [like Newton] that are able to gently, quietly and in a classy way show [what] they look like."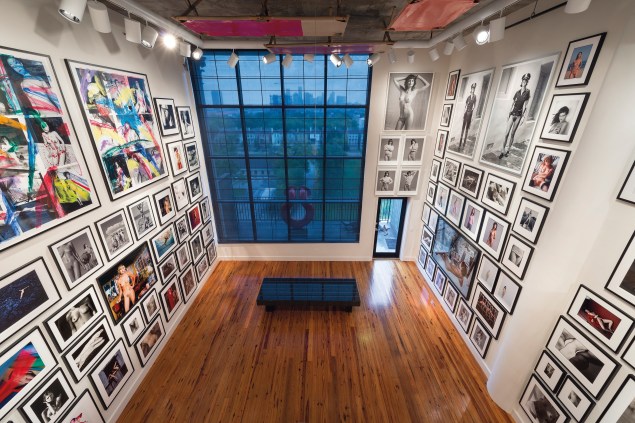 Mr. Sanders is an affable Texas businessman whose extensive photography collection includes work by 150 photographers; the Newtons hung alongside gems from Richard Avedon, Nobuyoshi Araki and David La Chapelle. (The Christie's auction represents about half of his collection.)
Mr. Sanders has a habit of purchasing not one, or two, images from a shoot, but rather the entire sitting. "He saturates," Ms. Paterson told the Observer. "He got as much Newton as he could get his hands on." More specifically, she added, "he pretty much cleaned out the Playboy archive."
Newton was commissioned to shoot for Playboy countless times and Mr. Sanders pretty much got his hands on all of those prints, too. This part of his collection has been reserved for an online-only auction taking place now and running through October 7. Encompassing 20 photographs taken for the magazine across three decades, all works are estimated between $15,000 and $25,000. The glossed-up shoots span Los Angeles, Paris and Monte Carlo. (Some browsers, including the Observer's, block the sale.)
One of the more unique qualities of Mr. Sanders as a collector is that he befriends and champions the photographers he so enthuses over–David Levinthal, to name just one, gushes over their friendship in the introduction to the Triple XXX catalogue. Yet with Newton that was an impossibility, with Mr. Sanders having purchased his first prints by the photographer just weeks after he passed away. And so the dogged collector turned to Newton's wife June, who oversaw the printing of 20 works by her husband in France. According to Ms. Paterson, it is just "typical of [Mr. Sanders] to say, 'Helmut's not producing work so I will go to June.'"
So why sell much of such an impressive collection after just 10 years? "I've reached the point in my life [when] it's just time for me to start to liquidate some of my work and move on," he told the Observer. "The collecting of photography has been one of the real thrills I have gone through… And I can't imagine anything that could have been more enjoyable than to know [these works by Newton] and to try and and understand what he was doing."