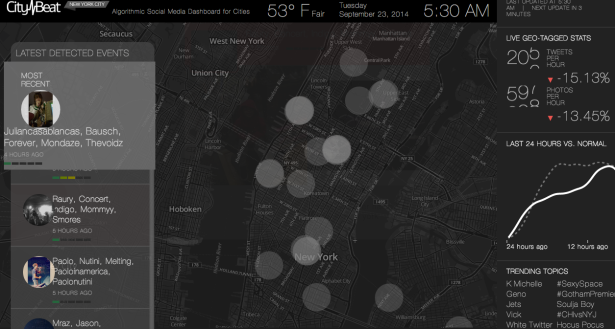 On the third floor of Google's NYC headquarters, there is a giant flatscreen monitor with a strange, churning map of New York City, cast in greyscale and resembling some cross between Google Maps, Instagram and the NASDAQ. When we took or first look at it, we noticed different social media posts popped up whenever the map's cursor moved locations.
On the West Side: a new section of the Highline opens, replete with dazzling sunset shots from amateur photogs. Downtown: the police are calmly arresting Flood Wall Street protesters — "You've got the wrong people! The criminals are there! (pointing to Wall Street)" says a caption on an Instagram photo of the crowd. Up in the Bronx: Yankee Stadium erupts with tweeted cries of #FarewellCaptain as they watch Derek Jeter play one of his final games.
This is CityBeat, a Minority Report-style social media dashboard that shows the public social media activity of the entire city of New York. The project was led by Associate Professor Mor Naaman and postdoctoral scholar Raz Schwartz from their temporary campus at Google, where they're camped out until Cornell's Roosevelt Island campus is finally finished. But you don't have to be at Google to see it. It's right here in browser form for anyone to access.
CityBeat scrubs Instagram and Twitter for posts that are both public and geotagged from across the five boroughs. Twitter itself can already give you a clue as to what's trending in your region, but CityBeat maps data down to a street corner, curates posts, and overlays data like the time, weather and how much data it's pulling in. On a typical weekday afternoon, it scrapes about 10,000 posts an hour and creates a collection of the day's most significant happenings.
"You can see the pulse of the city," Mr. Schwartz told Betabeat. "It's like extracting gold from a platter of information — you can see how the city changes throughout the day, the week, the season, the year."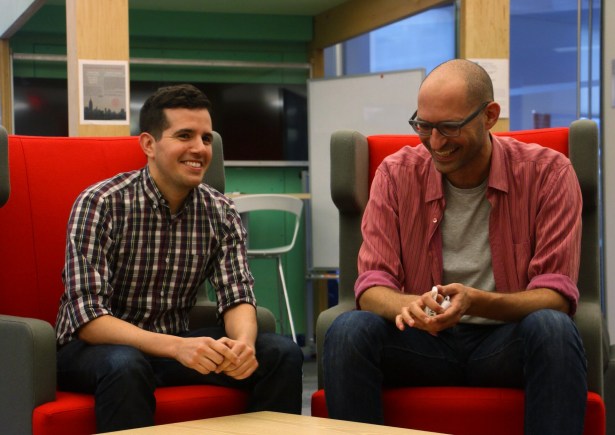 CityBeat was built with a grant from Columbia Journalism School as a tool for reporters. Like Twitter, the AP wires, or a good old police scanner, CityBeat is meant to help reporters keep tabs on breaking developments that arise purely from social, and possibly be a populist replacement to some distant flatscreen playing the local cabal news.
The CityBeat team trialed their prototype for news organizations like the New York Times, Buzzfeed and Gothamist. Most of the reporters the team spoke told them it was cool and clever, but many couldn't make out how it could actually be useful.
One obvious problem is that the data skews toward classic social media mundanity. For every new gallery opening or public transit disaster, there are five relentlessly Instagrammed EDM shows or Jason Mraz concerts, and the few things that might be truly newsworthy can take hours to build up enough momentum to get CityBeat's attention.
"Journalists want an edge over other organizations," Mr. Naaman said. "Reporters already know these things are going to happen, or hear from it from somewhere else."
Most people's gut reaction might be instant paranoia and worry over spying and police surveillance, but the data CityBeat collects is really only good for getting a feel for what's buzzy and popular, information that's benign for government purposes. The NSA have bigger fish to fry than monitoring the next Steve Aoki show.
"With the recent NSA revelations, you hear about the major ways we're being tracked," Mr. Schwartz admits, "but public social media isn't really one of them."
Theoretically, a tool could be built to scrub the same set of data and pick out hashtags and keywords that would imply and map criminal activity, but unless drug cartels start gathering in large groups and posting group selfies with incriminating hashtags, CityBeat isn't that tool. Then again, some Instagram drug dealers are doing exactly that, so maybe law enforcement officials shouldn't rule it out.
So what is next for Citybeat? Mr. Naaman has a host of other experiments and projects that need his attention, but NYC's Parks & Rec department have shown interest in using CityBeat to figure out what's going on in the city's 1,700 parks. Mr. Schwartz, for his part, leaves the East Coast for good tomorrow to take a job at Facebook's headquarters in Menlo Park. Apparently, projects like CityBeat have the rapt attention of the social media powers-that-be.
For now, CityBeat will sit quietly, available to anyone who may, for whatever reason, find some use for it.