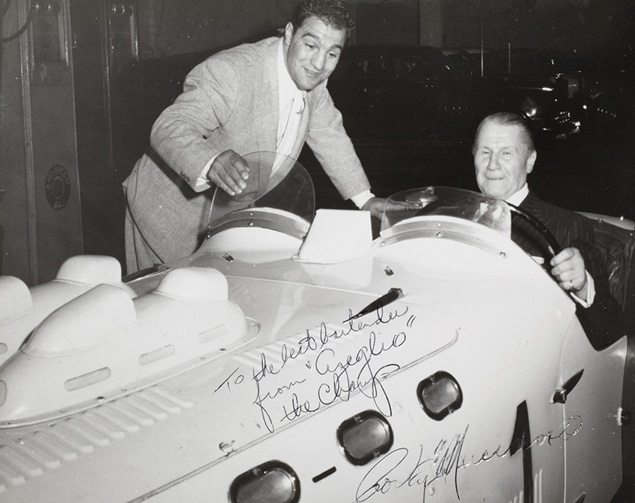 Tuesday morning, Doyle New York's El Morocco sale concluded by topping out just over its high estimate and bringing in a total of $376,319. The storied collection of club owner John Perona, a classic figure among New York's celebrities and partying elite, featured 279 lots (with 60 additional lots offered exclusively online) of paintings, furniture, photographs, decorative arts, and most notably a vast amount of memorabilia and ephemera from the nightclub. And while the final figure may not impress, individual items in the memorabilia and ephemera category didn't disappoint.
Peter Costanzo, co-director of books, autographs, manuscripts, and photographs, said of the sale, "Even though the club closed years ago, New Yorkers' appetite for ephemera and these items is unwavering. It's a New York story through and through."
He explained that much of the sale action happened by phone and online, and that its accompanying exhibition proved to be the main event for an auction that included more ephemera than is typical for the auction house.
"The exhibitions were jam packed every day. They were very popular, and people really enjoyed coming and seeing the items, and letting one item lead them to the next. Sometimes the exhibitions are more exciting than the auctions themselves."
But the "sub-market" for club ephemera—as Costanzo playfully qualified when discussing the popularity of the memorabilia among collectors—is unarguably strong. Just look at the numbers.
Two photo albums dated to the 1930s-1940s (Lot 707), containing photos of Lou Gehrig, Marlene Dietrich, Cary Grant, and Clark Gable, among many other stars of the time, fetched $6,875, exceeding nearly five times its estimated amount of $1,000-$1,500.
Perona's El Morocco Family Album (Lot 691), containing countless signatures from famous patrons such as Kittly Carlisle, Conde Nast, Gloria Swanson, and the club owner himself, almost doubled its estimate of $2,000-$3,000 and brought $5,938. Even a set of menus (Lot 699), which was not expected to sell for more than $500, raked in $2,500.