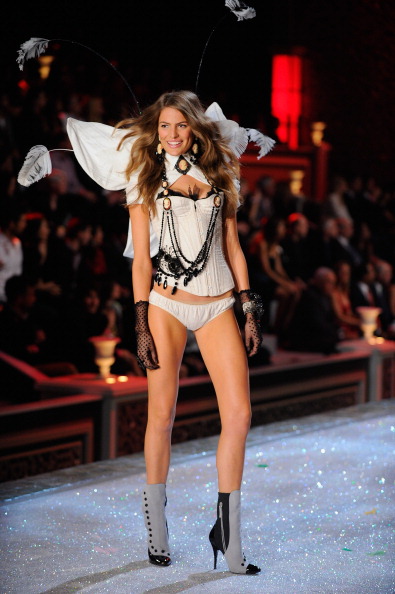 Many women aim to be more than a pretty face in the modeling industry and a handful have achieved TV host or even CEO status. But none own the titles of TED talker, art lab incubator and activist quite like Cameron Russell. This week the 27-year-old fashion veteran will put her creative hats to one side and take to the runways of NYFW once again. When Ms. Russell spoke to the Observer a few weeks ago, she was uncertain which shows she would be walking in but shrugged off rehearsal worries. "I'll just show up to walk, the casting directors already know what I look like!"
Ms. Russell's most recent appearances include a spot on the cover of Vogue Italia's current 50th anniversary issue lounging alongside other top models from the decades including Christy Turlington and Naomi Campbell and Joan Smalls. In addition, she'll be in the 2014 Pirelli  calendar. Both were shot by legendary photographer, Steven Meisel. She has also featured in ad campaigns for Calvin Klein, H&M, Prada, Ralph Lauren, Givenchy, and the all-American favorite J.Crew not to mention editorial appearances in domestic and international editions of Vogue, Harper's Bazaar and Elle.
Ms. Russell continues to land major campaigns and consistent work while juggling her many side projects. "I can do it because I am young and I don't have a lot of responsibility, except doing what I'm doing well," she said on the phone from Norway, where she was on a location shoot for H&M. She is benefiting from a shift in fashion modeling that puts 27 as a mid-career rather than retirement age, thanks to trailblazers before her including Amber Valetta, Ms. Turlington and Cindy Crawford—whom Ms. Russell more than slightly resembles.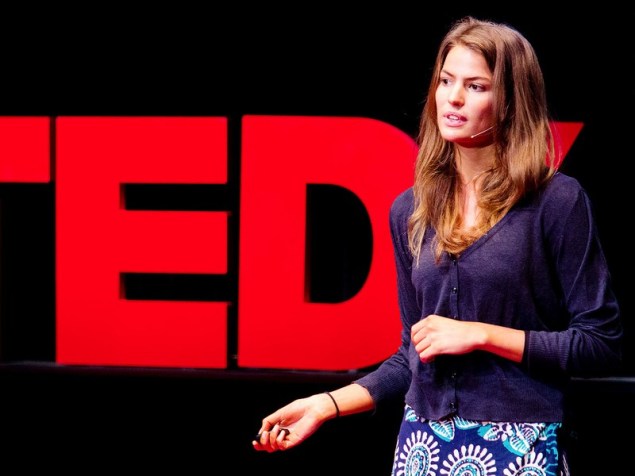 A 2012 TED talk titled, "Looks Aren't Everything. Believe me, I'm a model." landed Ms. Russell in a different kind of spotlight away from fashion. The speech has more than 7.6 million views so far and is ranked in TED's top 20 most-viewed talks. "It's kind of unbelievable," she told us. "So many incredible people have given TED talks, but on the other hand, I can believe [the number is so high] because I think we live in a media culture that celebrates celebrities."
In her carefully rehearsed TED talk, Ms. Russell stated truisms that are inherently understood (and now supported by scientific studies), such as: attractive people make more money. "How we look has a huge impact on our lives," she told the auditorium. All she did, she claimed in the talk, was hit the biological lottery, cashing in on good genetics and a legacy of beauty that worships the pretty white woman. On stage, it was hard to deny her physical attractiveness, but she did not closely resemble glammed-up modeling images of herself being projected behind her. "I am insecure," she candidly told the crowd. She was self-deprecating, funny, visibly nervous but clear. It was part tell-all, part of a fascinating unveiling of how the modeling industry and fashion in general hum. 
Born and raised in the famously scholastic town of Cambridge, Massachusetts, Ms. Russell was oldest of three children. Her mother founded the car-sharing business Zipcar when Ms. Russell was an early teen. Entrepreneurial chops run in the family. "My mother never talked about beauty. I am happiest when I'm not thinking about those things," she said, those things of course being physical appearance, weight and size.
Ms. Russell's "look," unlike most high fashion models that are discovered, culled, and celebrated for their outlandishness, manages to be beautiful and wholesome, yet completely unattainable, her straight, thick eyebrows frame dark brown eyes and razor cheekbones lend a hint of masculinity; oftentimes in high fashion, what makes a woman most attractive can be a hint of rakishness, a resemblance to the opposite sex. Her look is a winning one, or at least it was considered that by Victoria's Secret executives, who hired her as an Angel and then mysteriously let her go after just two seasons. Ms. Russell remains unconcerned, "We have a good relationship," she told the Observer, "and they change the girls for each show."
If Ms. Russell seems more intellectually sophisticated and outspoken than her model peers, it might be worth noting that she attended Columbia University for her undergraduate studies, where she majored in economics and political science. "I was majoring in math until the end. I could have been one of those STEM warrior women!" she exclaimed, hinting at a bit of remorse.
Throughout our interview, Ms. Russell teetered between sounding maniacally upbeat and slightly disheartened. She's an optimist attempting to make headway on complicated issues fraught with historical deadweights, such as funding for the arts and campaign finance reform. "I'll be totally straight with you, I did not feel like my Columbia education was spectacular. Having Columbia by my name got me other opportunities but it's another system of oppression."  She has used optimism and hustle rather than education to succeed not only in modeling but in fundraising for arts and LGBT youth.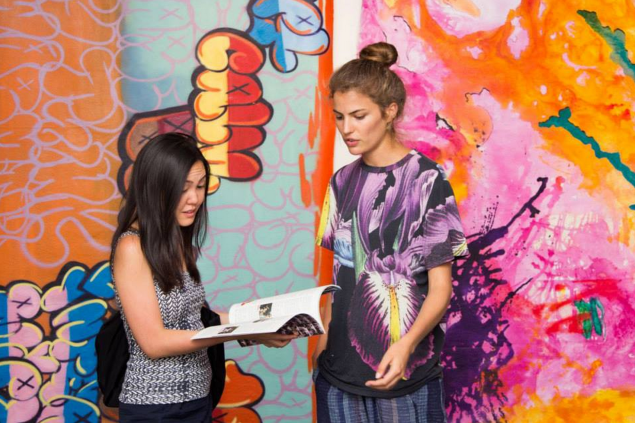 Asked if she would ever pursue a career in public office, the model chuckled a little but then sighed. "I was obsessed with the idea when I was a kid but campaign finance is a bummer. I don't know a way around that," she responded, adding that she has yet to see a political candidate who truly inspires her.
Ms. Russell keeps a place downtown she shares with her younger sister Linnea and spends a lot of time with boyfriend filmmaker Damani Baker. Her social media presence is a bit exhausting to watch. Like a millennial Mia Farrow she is constantly crusading for myriad different causes. "I'm so terrible at picking one cause; lots of people find a cause such as cancer because it has affected them personally," she said. "I'm deeply compelled by leadership and power dynamics. I'm interested in finding leaders in lots of spaces." 
Now she's channeling her notoriety and fame into powerful creative projects such as Interrupt Magazine and Space-Made. An experimental art lab in Brooklyn, Space-Made has a full-time team of four, including Ms. Russell, who "experiment with artists in communities to build progress and projects," she said. "At Columbia I wrote a lot about public art and political power." She mentions the book Graffiti Kings, referencing the subversive and illegal culture of graffiti tagging that relied on accessibility and opportunity to rapidly transform the visual landscape of a city. Now, Ms. Russell's art lab gives opportunity and resources to a wide range of artists.
"I'm not fashionable enough to do a fashion magazine," she told the Observer on the topic of Interrupt. The mission of the magazine was, Ms. Russell said, to bring the extensive network of creative professionals such as video editors and graphic designers she has picked up in her life through modeling gigs, into print. Each month there is a new editor-in-chief, a new voice and perspective, while Ms. Russell remains on the masthead as managing editor and secures funding from advertisers. With a kitschy flavor, the magazine is a bit reminiscent of the "girl power" movement of the 1990s: homegrown but fierce.
She is launching a model podcast during fashion week. On MoMo, or Model on Model, where one should expect, "… discussions between a model and a random guest. For example, two models and a sex worker." As the website teases, it's a place where models are heard but not seen. There's also the imminent release of We Are the Youth, a book published by Space-Made that "showcases 40 personal stories and portraits of lesbian, gay, bisexual, transgender and queer youth ages 12 to 21."
Ms. Russell is not only a bright light in the often negatively perceived world of fashion, but she's also a voice for feminism, the arts, sustainability and marginalized voices. The overarching cacophony of her message is "give, give, give" unlike that of most millennials: "take, take, take." And although she's had a decade of experience modeling, Ms. Russell is really only just beginning.