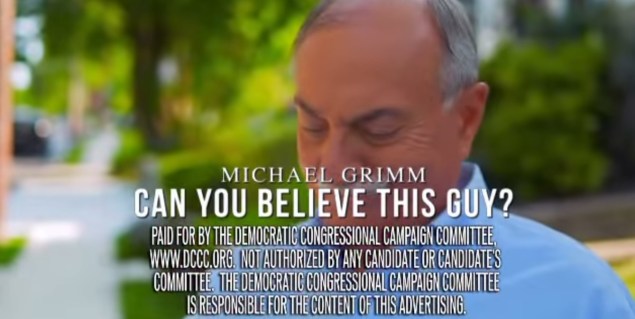 The Democratic Congressional Campaign Committee has unleashed yet another television advertisement highlighting Congressman Michael Grimm's indictment, signaling that national Democrats will do everything in their power to ensure voters don't forget about the allegations leveled against their Republican representative.
The ad, titled "Moral," features people identified as Staten Islanders watching scenes from Mr. Grimm's indictment on their tablets and then expressing outrage.
"A 20 count indictment against Michael Grimm. Conspiracy to defraud the United States," says U.S. Attorney Loretta Lynch, who brought the 20-count indictment against Mr. Grimm, in the ad.
A woman watching Ms. Lynch on her tablet looks up at the camera.
"Does he think he's above the law?" the woman, identified as Rita from Port Richmond, asks.
Mr. Grimm, a Republican facing Democrat Domenic Recchia Jr. this fall, is seen on another tablet defending himself as a "man of integrity. I know I'm a moral man."
"Are you kidding me? I've had enough of this guy," says a disgusted man identified as Robert from West Brighton.
The ad makes at least one eyebrow-raising claim: though Mr. Grimm has pleaded not guilty to the wire, mail and health care fraud charges leveled against him related to a Manhattan restaurant he operated before he was elected to Congress in 2010, one woman implies Mr. Grimm has never professed his innocence.
"I would think that if he were innocent of the charges, he would have said that," the woman, identified as Rosemary from Grasmere, says in the ad.
Mr. Grimm and his attorneys repeatedly denied any wrongdoing and attacked the nature of the indictment, but a spokesman for the DCCC argued to the Observer that the ad is not misleading, pointing to a May Politico interview where Mr. Grimm, when asked if he was innocent of the criminal charges, said it "It depends on what you're asking me of."
"Grimm has repeatedly refused to deny the charges specified in the indictment," Marc Brumer, a DCCC spokesman, said in an e-mail. "He has called it a witch hunt, said he will beat the charges, and denied past accusations of campaign finance impropriety not related to the indictment. But the charges in the indictment itself, namely cheating on his taxes and perjury – he has never denied them when asked by press."
Mr. Grimm is locked in a tight race against Mr. Recchia, a former Brooklyn councilman, for the Staten Island and southern Brooklyn-based seat. A recent Siena College poll showed Mr. Grimm still leading Mr. Recchia by four points, but the DCCC took the step of releasing an internal poll today showing the race tied.
In a statement today, a spokesman for Mr. Grimm mocked Mr. Recchia for a couple of gaffes the challenger made last week.
"It's laughable that the Recchia campaign would call anyone embarrassing after Recchia mumbled incoherently when asked to explain a major free trade agreement he claimed to oppose and then touted his vacations to Israel and Italy as proof of his 'great knowledge' of foreign policy," said Nick Iacono, a spokesman for Mr. Grimm. "Even worse, Recchia has the audacity to ask Staten Islanders and Brooklynites for their vote after he voted to raise their property taxes 18.5% and add even more tolls on our bridges. Can you believe this guy?"
NY1 first reported the ad's debut yesterday.
Updated with statement from Mr. Grimm's campaign.
View the ad below:
[youtube https://www.youtube.com/watch?v=kHEpMvuuaGU&w=560&h=315]