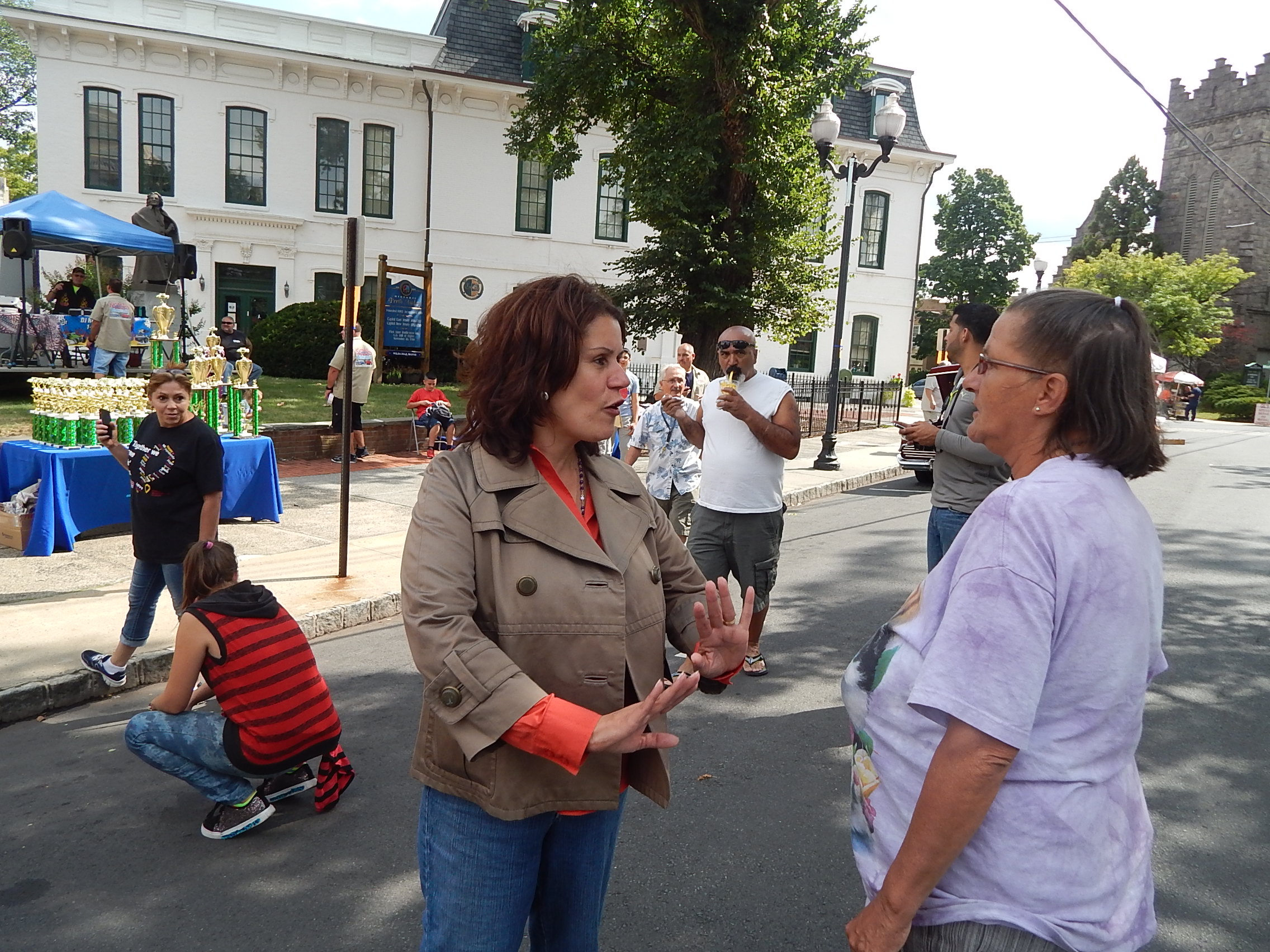 PERTH AMBOY – With the Del-Vikings on boom speakers, a black Trans Am nosed past the oldest City Hall in the country, engine growling two blocks above Hurricane Sandy-demolished docks restored in the months since as Perth bears down on yet another control election.
"This city came together after Sandy," said Mayor Wilda Diaz, standing in the midst of all the old gorgeous, gleaming cars at the annual car show on Saturday afternoon.
As she backs a three-person ticket in an effort to maintain a grip on the five-member council, it's not as unified as the mayor would like, of course.
In fact, those she got to the dance with arguably nurse the deepest wounds.
The charismatic Diaz has weathered a turbulent six years in office.
Her 2008 dethroning of Mayor Joe Vas shocked the New Jersey political establishment.
The bank teller came into office with Fernando Gonzalez and Kenny Balut, a veteran former school board president and cowboy beat cop respectively: all told a trio of outsiders with more guts than political brains by the reckoning of most, playing under-the-radar roles of Don Quixote, Sancho Panza and Dulcinea, overlapping an atmosphere of Obama revolution – and toppling the seemingly unbeatable local double-dipping colossus.
Once Diaz got to city hall, the physically imposing Vas unraveled.
You could almost see him deflating in the hallways of the statehouse.
His allies insisted he would be just fine, but deprived of his local chair of power, and with that monstrous architectural octopus known as the Vas Mahal still on the landscape and unpaid for and leaking in a morass of contracts run amok, jail crept up on him in due time.
After ducking and dodging amid reports of an investigation followed by 2009 corruption charges, Vas in 2011 ate a six and half year sentence on a corruption conviction.
In 2010, trying to finally fumigate city hall and command a council majority, Diaz backed a ticket headed by Kenny Gonzalez, a former School Board President and former Vas ally turned willing Diaz backer. On the other side, local Democratic Party Chair Lesley Dominguez Rodriguez – a dug-in Vas holdout – backed a slate led by Joel Pabon, a popular mail supervisor and longtime backer of Diaz's mayoral predecessor.
Diaz went two for three that year, making a statement of local power – but failing to put down Pabon.
"I was the outsider coming in," the councilman recalled. "People thought I was going in for revenge. I took some shots in the beginning."
But for councilmen Fernando Gonzalez and Kenny Balut – her two original allies – it wasn't Diaz getting closer to Pabon that bothered them.
They were already starting to become disillusioned.
"When I first ran I ran because I felt we needed some change," Fernando Gonzalez told PolitickerNJ. "The first eight years of Vas were outstanding. Joe Vas had leadership ability, and in the beginning we all stood back and watched him. He was a leader, but he got so ambitious and so controlling that people started reacting to him. By the time I ran I felt 'enough is enough.'
"I ended up running with Wilda to give her ticket a little more credibility, as I had been a member of the Board of Education for nine years," he added. "Kenny Balut was like a pit-bull. He bites into something and doesn't let go. Both him and I were clearly disappointed. We promised a lot of changes, but the personnel in town almost stayed the same. When a new administration comes in they like to put their people in place, people with the same philosophy of government to move in the direction you want to go. But with Wilda, it was just stagnant. She stopped going to city council meetings. She avoids confrontation – as opposed to Kenny Balut, who confronts it too much. We drifted apart."
Gonzalez became increasingly upset with Diaz's decision to hire out-of-towners for key city hall positions – her director for the Department of Public Works among them.
By the time the mayor ran for re-election in 2012, both of her original running mates opted out, arguing that the mayor too easily allowed herself to become absorbed into the old machinery of the Democratic Party they thought they had signed up to fight.
In particular they distrusted Diaz's seeming closeness to state Sen. Joe Vitale (D-19), whom they saw as a Woodbridge powerbroker more interested in playing politics than in the local needs of their home town.
"We were pushed out," Balut said. "Her and Vitale pushed us out. We didn't support [Middlesex County Democratic Chairman Kevin] McCabe. Basically we were told 'he's a Democrat, you have to support him. I don't believe in that. That's the problem. The same players are still there and they're there to protect the rich Instead of stepping up to help the poor people in Perth Amboy."
With the support of Vitale and Woodbridge Mayor John McCormac, Diaz won her re-election bid convincingly, in a district-wide civil war election where Assemblyman John Wisniewski (D-19) emerged the loser with a defeated Billy Delgado.
Now Pabon's up for re-election – with the mayor's support.
"I'm supporting our council president," Diaz told PolitickerNJ. "We came to a working relationship during Hurricane Sandy. I think our alliance is a clear message, not that we'll always agree, but that we put the best interests of Perth Amboy first."
In the ultimate political arc coming back around on Diaz, Pabon faces Fernando Gonzalez, that early ally of the mayor's when she first ran against the fearsome Vas turned pointed critic.
At the heart of the debate is Gonzalez's contention that Diaz is too soft to confront those entrenched political interests who take more than they give to Perth Amboy – and his view that the mayor's financial plan to get the city of a crisis demanded too much of the residents.
Diaz hit back hard.
"Vas left us strapped with huge debt but residents see I'm working my hardest for them," she said, making no apologies for her alliance with Vitale. "You must build relationships so when the community is in need, you know who to go to.
"I had an opportunity to work with Fernando Gonzalez," the mayor added. "He told me to let the city go bankrupt. Let the state take us over. I was not going to allow that. We had an ugly disagreement. Now Perth Amboy is up from where we were, with an A-plus credit rating with a stable outlook. We're not over-extending; not spending the money we don't have."
Gonzalez countered.
"Obviously the mayor has no problem raising the citizens' taxes," said the former councilman and former Diaz ally. "What I put forward was leverage, the leverage that one has in a negotiation. Donald Trump has used precisely such a negotiating tool. We ended up paying $5 million to the Water Department; I believe that could have been negotiated much lower.
"When I got elected in 2008, I was paying $7,000 per year in property taxes, and now I pay $14,000 in taxes," Gonzalez added. "There was no consideration regarding the public when the administration made those financial decisions. How many people have gone back bankrupt and lost their homes? I'm a local realtor. I know. Eighty percent of all closings have been foreclosed properties. Everybody's taxes have doubled. Joe [Vas] kept the taxes down for ten years. No question, we needed to adjust, but they went so drastically up. The administration was willing to use the public as a means of paying for everything."
Gonzalez's wife serves as president of the school board, an
d he opposes a plan backed by the mayor for the citing of a new public school – a reward, in his view, to the labor groups that backed the mayor's re-election and close allies to Vitale and McCabe.
He's also worried about what he sees as a lack of transparency at the police department and a surge of unreported violent crimes.
As for the mayor, he wants the position scrapped as currently conceived.
The mayor of Perth Amboy makes over $90,000, but it was a part-time job until Joe Vas made it fulltime in 2000," Gonzalez said. "All the mayor does is ribbon cutting while making over $90,000. Joe made it and Wilda continued it."
"It's all about the power," Balut added. "I called her the rock star. We could have been the model town. But Wilda's Joe Vas lite. She's not strong enough to be taking on the powerbrokers."
Gonzalez and Balut and Kenny Gonzalez (for other reasons in the case of the last of these, sources say) all decided against running again with the mayor.
But Councilman Bill Petrick was with Diaz in 2010 and he's running on the Diaz-backed slate with Pabon this year.
The local florist has proved her staunchest ally in office.
Albeit still a critic of the mayor, Billy Delgado, who ran against her two years ago, backs her ticket – starting with Pabon.
"I thought the mayor was the candidate to move Perth Amboy forward," said the council president. "I respect her. I'm stabilizing taxes, and we're doing a lot of positive things right now."
If well-played politics hardened establishment support for the mayor and isolated the antis, the results simply re-entrench Vas era optics in city hall, Balut argues.
"The other candidate running on Diaz's ticket – with Pabon and Bill Petrick – Sergio Diaz worked for the UEZ [Urban Enterprise Zone] when Joe Vas was mayor, when we were the poster child for why the UEZ doesn't work," the former councilman groaned.
Insiders say Fernando Gonzalez and his running mates – Jelmin Caba and Ana Mascenik – are long-shots on November 4th.
And while the mayor's revolutionary saddle tramps from years ago argue that their position on the outskirts of things illustrates the degree to which Diaz cocooned herself into the Democratic Party establishment (in fairness, she's had a close relationship in office to Republican Gov. Chris Christie), her diehard allies point out that her success in this election with a win by Pabon and company would injure, more than anyone else, Dominguez Rodriguez, the mayor's ultimate Team Vas hold-opponent.
That's a mission that dovetails nicely with Vitale's and McCabe's countywide aims.
It was Dominguez Rodriguez, after all, who occupied the B position on the county chair ticket that beat McCabe in 2011, an infectious pepperpot, according to Barnes – those were his words at the time – who has proved locally incendiary, and a willing stumbling block to Diaz.