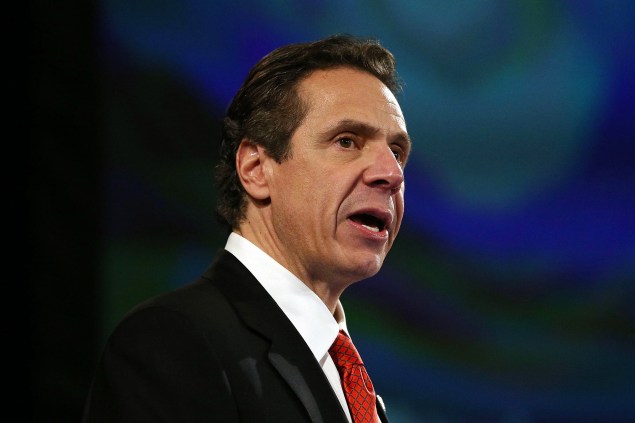 A week ahead of the primary election, Gov. Andrew Cuomo said not all political debates are worth having.
Mr. Cuomo has no plans to debate his longshot challenger for the Democratic gubernatorial nomination, Zephyr Teachout, whom he never mentioned by name during a 10-minute scrum with reporters who peppered him with questions about her.
"I don't think it has anything to do with democracy. I think it has to do with individual campaigns — sometimes you have debates, sometimes you don't have debates. It depends on the campaign, it depends on the issues, the level of issues, so there are a lot of variables," Mr. Cuomo told reporters after a press conference on his trip to Israel. "I've been in many debates that I think were a disservice to democracy — so anyone who says debates are always a service to democracy hasn't watched all the debates that I've been in."
The governor was responding to criticism from some corners that his decision not to debate Ms. Teachout — who has repeatedly called for him to do so — is a disservice to the state's primary voters. Mr. Cuomo said Tuesday that voters should consider his record in making their pick next Tuesday.
"I'm communicating with voters all day long, talking to you I'm communicating with voters," Mr. Cuomo told reporters. "I have a job, I'm doing my job. I have a record, I'm proud of my record. I'm proud of what I accomplished and that's what I'm going to run on."
Mr. Cuomo has rarely been on the campaign trail in advance of the primary, and recently commented that the campaign season had yet to really get underway. Asked Tuesday when he thought campaign season would begin, Mr. Cuomo was blasé: "It will be starting with, primary elections are next week or so," he said.
The primary is Tuesday. Under state election law, Mr. Cuomo and his running mate for lieutenant governor, former Congresswoman Kathy Hochul, must run on different tickets — meaning theoretically, Mr. Cuomo could end up on a Democratic general election ticket with Ms. Teachout's running mate, Tim Wu, forcing him to campaign and serve with a critic.
"He is not going to win the primary, in my opinion," Mr. Cuomo said today of Mr. Wu.
Mr. Cuomo's press event Tuesday focused on the ongoing conflict in Israel — which Mr. Cuomo said he feared could spread worldwide — a topic that his challenger Ms. Teachout has avoided taking a strong stance on, unlike scores of New York politicians from both parties who strongly back Israel.
"Let's leave the politics out of it," Mr. Cuomo said of Ms. Teachout's views on Israel.
It's not a Democratic or a Republican issue, Mr. Cuomo said — Senate Republican Leader Dean Skelos was among those at his press conference Tuesday and on the trip to Israel — but rather a New York issue.
The state has a "special connection" to Israel, Mr. Cuomo insisted — economically, through its Jewish population, and through its experience with terrorism on September 11, 2001.
"It's not just Israel's problem and it's not just Hamas — it's the Middle East, it's Hamas, it's Hezbollah, it's ISIS, it is growing and fomenting in terrorism and extremism and in extremist groups. And they're in the Middle East today, and if you look down the road they're going to be in Europe tomorrow, and if you look down the road further they'll probably be in this country — and our city and our state are premier places for targets of opportunity," Mr. Cuomo said.
For those reasons, Mr. Cuomo said, every American should be concerned about the situation in Israel.
"I feel that as a New Yorker, I feel that as an American, and that's not a political view," he said.
But asked whether Ms. Teachout did not share his views because she was not a real New Yorker — Mr. Cuomo's campaign unsuccessfully challenged her residency in court — Mr. Cuomo couldn't resist responding.
"Oh, good point. I didn't even think of that, but I'm glad you raised it," he said with a smile.