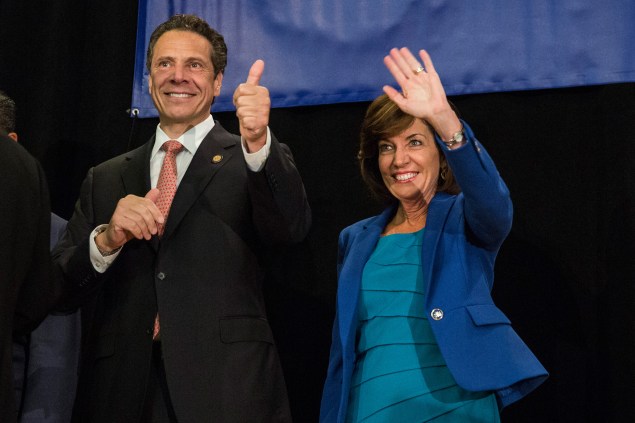 Few expect Westchester County Executive Rob Astorino to unseat Gov. Andrew Cuomo this November — but that hasn't stopped the incumbent governor's campaign from sinking nearly $8 million into television ads in the race so far, according to a compilation of ad-buy figures provided to the Observer.
In markets across the state, the governor's campaign has spent some $7.7 million to place ads running on broadcast and cable networks and on New York City cable, according to the figures provided by a television source to the Observer. That amount covers ads running through September 9, the day of the Democratic primary in which Mr. Cuomo snagged only 60 percent of the vote thanks to upstart challenger Zephyr Teachout, and includes some $296,000 spent the week of September 8.
It doesn't include big spending by the New York State Democratic Committee — the state party, which Ms. Teachout unsuccessfully tried to stop from running pro-Cuomo ads — which has dropped just under $5 million on air time in the gubernatorial race across the state, according to the figures, including more than $368,000 the week of the primary and almost $459,000 this week.
Mr. Cuomo's campaign spokesman, Matthew Wing, offered slightly different numbers for the ad buys so far than those provided by the Observer's source — he said the campaign had spent about $6.5 million so far on advertising, and that the state Democrats had spent about $5.6 million.
The figures provided to the Observer are the amount actually spent on ads that have aired so far in the race — and do not include expenses for time reserved for late September or October advertising.
Mr. Astorino has spent just $1.8 million on advertising across the state, according to the figures, including more than $688,000 the week of September 8. That likely does not include the full heft of what campaign spokeswoman Jessica Proud called a "seven-figure" statewide cable ad buy that began airing on Saturday.
The Republican state party, too, has spent less than Democrats — just about $252,000 on ads against Mr. Cuomo so far, according to the figures given to the Observer.
State GOP spokesman David Laska said that the figure was inaccurate and that the party had spent considerably more — but would not provide a figure or point to any markets where state GOP ads in the governor's race were running.
Ms. Proud would not comment on the size of the Astorino campaign's ad buy — though she noted the campaign's recent buy was its first statewide purchased, following smaller ad blitzes this summer — but she did knock the spending of Mr. Cuomo and state Democrats.
"He's spent millions running the nastiest campaign for governor in New York's memory because he is under criminal investigation and has a record of the highest taxes in the nation and worst economic outlook. But even with all his pay-to-play millions, voters aren't buying it," she said.
Although these numbers are probably not totally definitive — part of any campaign's strategy is disguising exactly what it is buying and where and numbers shift as money is sometimes returned when ads are preempted — they do paint the most complete picture yet of the spending going on in one of the most expensive states. And that picture is clear: Mr. Cuomo and pro-Cuomo groups are looking to spend Mr. Astorino out of possible contention.
Of course, other factors do come into play. Mr. Astorino was not challenged in a primary — and as such didn't have to run advertisements reminding voters to hit the polls and choose him when they got there.  And Mr. Cuomo has considerably more cash in his campaign coffers: $32 million at his last financial reporting in August, compared to Mr. Astorino's $2.4 million on-hand as of his last reporting date in July.
And outside of campaigns and state committees, other groups have and will throw their weight around on the airwaves. A pro-Astorino PAC, Rescue New York, spent $426,000 this week on its first television ad which will air in select markets.
And smaller groups have waded into the fracas — the Erie County Democrats made waves this week with an ad attacking Mr. Astorino for rooting for the Miami Dolphins in a week the NFL team played the Buffalo Bills. Mr. Astorino shot back at that advertisement with an online spot narrated by his son, knocking Mr. Cuomo for digitally removing him from a picture of Mr. Astorino in Dolphins gear used in the ad.
This story has been updated to include information from the Cuomo campaign.