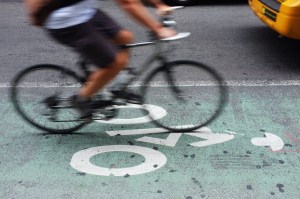 After Jill Tarlov, a 59 year old mother from Connecticut, died from injuries sustained during a collision with cyclist Jason Marshall on Sunday, September 21, the NYPD launched a ticketing campaign against reckless Central Park bikers.
The initiative seems to be doing little to help though, with the New York Post reporting that police distributed a whopping 103 summonses this week alone. The NYPD released that "between Friday and Sunday, 29 riders were caught failing to yield to pedestrians, 26 blew red lights and 30 were ticketed for wearing headphones" according to the Post.
Despite the increased scrutiny paid to Central Park cyclists, the Post observed that almost 80 percent of the time (796 out of 1,006) cyclists ran a red light–even with pedestrians in the crosswalk. Some were seen slowing down and looking both ways before speeding into the intersection. One biker declared, "Everyone goes through reds."
Another cyclist, Ruth Spencer calls for the blitz to continue, "Somebody should be here [at all times] to give out tickets." Johnson, a man biking through the park, left flowers at the scene of last week's accident and spoke to the Post, saying, "I'm a cyclist some days, I'm a pedestrian some days–but I'm a father and a son every day."
Other New York cyclists came together Tuesday night to hang unofficial "20 is plenty" speed limit signs. The activists told New York Daily News, "We're trying to slow people down. The existing laws don't work." The unauthorized signs cut 5 mph off of the existing speed limit for bikers.