Ex-Gov. David Paterson and State Democrats ripped into Republican Rob Astorino today for fund-raising with Texas Gov. Rick Perry, highlighting Mr. Perry's gaffe-filled presidential run.
Mr. Paterson, the chair of the State Democratic Party, also sought to tie Mr. Astorino, the Westchester County executive and rival of Gov. Andrew Cuomo, to Mr. Perry's conservative record, calling Mr. Astorino's appearance with the "ultraconservative" Texas governor "bizarre."
"When you look at their positions on cutting Medicaid, cutting education, opposing a woman's right to choose, blocking marriage equality and repealing gun safety laws, there's no daylight between ultraconservative Texas Governor Rick Perry and his ideological soul mate Rob Astorino," said Mr. Paterson in a statement. "Just when Astorino might be hoping New York voters have an 'oops moment' and ignore his ultraconservative views, in comes Rick Perry to remind everyone."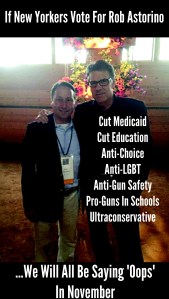 Mr. Perry, a fellow Republican, will fund-raise with Mr. Astorino in Buffalo tonight and appeared with him on Long Island, lending a much-needed financial boost to Mr. Astorino's long-shot bid. Mr. Astorino is far behind Mr. Cuomo in fund-raising and name recognition, unable to compete with the barrage of television advertisements that have touted Mr. Cuomo's record and smeared Mr. Astorino's.
But Mr. Perry's appearance, as Mr. Paterson's statement shows, is providing more campaign fodder for the Democrats. Cuomo surrogates like Mr. Paterson and former Council Speaker Christine Quinn are attacking Mr. Astorino for his socially conservative views in a state that, on social issues at least, is becoming more liberal. Mr. Cuomo and his allies have long painted Mr. Astorino as an extremist too far from the political mainstream to be taken seriously.
Mr. Perry's bumbling presidential bid is also not doing Mr. Astorino any favors. The Texas governor infamously said "oops" during a televised debate when he failed to name the third governmental agency he would eliminate if he was elected president.
But while Mr. Astorino has downplayed his social views in the election, preferring to focus on his anti-corruption, tax-cutting agenda, he and Mr. Perry are aligned on easing gun control restrictions, another point State Democrats are happy to underscore. Mr. Astorino, however, is hoping to capitalize on upstate opposition to the strict gun control measures that Mr. Cuomo passed early last year.
Mr. Astorino's campaign, in response to Mr. Paterson's comments, against blasted Mr. Cuomo for the controversy surrounding his handling of the anti-corruption Moreland Commission.
"The 2014 'Oops!' category closed when Governor Cuomo shut down the Moreland Commission," said Jessica Proud, a spokeswoman for Mr. Astorino. "When federal prosecutors are done investigating, it may prove to be the biggest 'oops!' moment in New York history, even surpassing Andrew Cuomo's "holding-Giuliani's-coat" remark that sank his 2002 gubernatorial campaign."