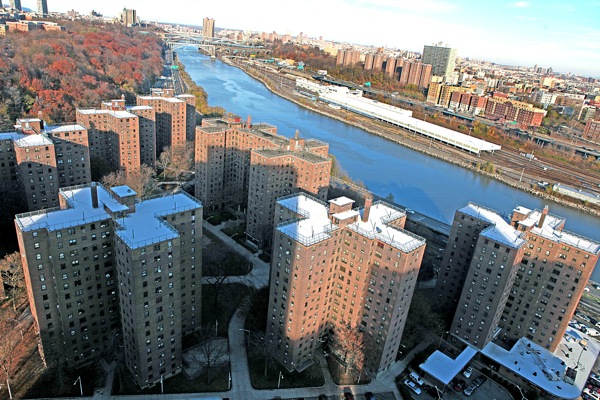 The de Blasio administration yesterday rolled out statistics it claimed showed that its $210.5 million investment in anti-crime measures in New York City Housing Authority buildings was already paying off.
At a City Council hearing at Brooklyn's Breukelen Houses, city officials announced a 14.4 percent reduction in crime in public housing between July 1 and Sept. 14, which they attributed to a massive improvement package passed earlier this year. The package included funding for police training, extended hours at community centers, security cameras, lighting and other security upgrades.
"That is a significant decrease, a significant step in the right direction," said Carlos Gomez, Chief of Housing for the NYPD, noting that crime in housing projects rose 30 percent between 2009 and 2014. "Mayor de Blasio saw that and he wanted to stop it."
The initiative placed special emphasis on 15 developments–three in Manhattan, seven in Brooklyn, three in the Bronx, one in Queens and one in Staten Island–that account for between 17 and 18 percent of all crime committed in all of NYCHA's 334 properties citywide. Mr. Gomez announced crime was down in those buildings by 7.4 percent.
Nonetheless, all of those projects saw assaults increase by slightly more than one percent, and a few saw an overall increase in crime. The latter detail caught the attention of Council Speaker Melissa Mark-Viverito, who highlighted a 30 percent increase in crime in Brooklyn's Bushwick Houses and a 50 percent jump at the Butler Houses in the Bronx.
"Those are some high numbers," Ms. Mark-Viverito noted.
Mr. Gomez, however, maintained that those spikes were isolated incidents.
"Some are struggling, but let's look at Ingersoll [Houses], four crimes versus 16 last year, that's a 75 percent decrease," said Mr. Gomez. "Overall, crime is going down."
Much of the money spent on officer training was used to instruct them in knocking on doors to investigate potential domestic violence incidents, as well as having them visit community centers and work toward improving the often strained relationship between NYCHA residents and law enforcement. Mr. Gomez said this effort had been an overwhelming, if unquantifiable, success.
"What you can't measure, or maybe you can, are the hundreds of thousands of positive interactions that have happened in this time, because of the mayor's commitment to public housing," Mr. Gomez said.
Other officials from Mayor Bill de Blasio's administration unveiled a plan to create a special "Compstat" system to track crime statistics in the developments. The system would be developed in concert with residents, through the use of paper surveys and other, as-yet determined means.
"The goal is to reduce crime and we're figuring out how to do that," said Elizabeth Glazer, Director of the Mayor's Office of Criminal Justice. "There's a lot going into it to make sure to get it right."
Mr. Gomez, however, warned that even the $210.5 million would be insufficient to tackle all of NYCHA's crime problems. He said he had already deployed all 200 of the officers the mayor's plan granted him in July and August in order to suppress the usual summer crime wave–an unsustainable rate under the current budget.
"It is going to be cut back somewhat just because of funding issues," Mr. Gomez said.
Some Council members concurred that the problem will require further financing.
"We all agree NYCHA needs more money, and I think NYCHA agrees that it needs more money," said Bronx Councilman Ritchie Torres, Chairman of the Committee on Public Housing.
The hearing comes less than a month after residents of a housing project in Manhattan heckled Mr. Gomez and Mr. de Blasio while they held a press conference to celebrate figures showing crime decreased in NYCHA developments in July.