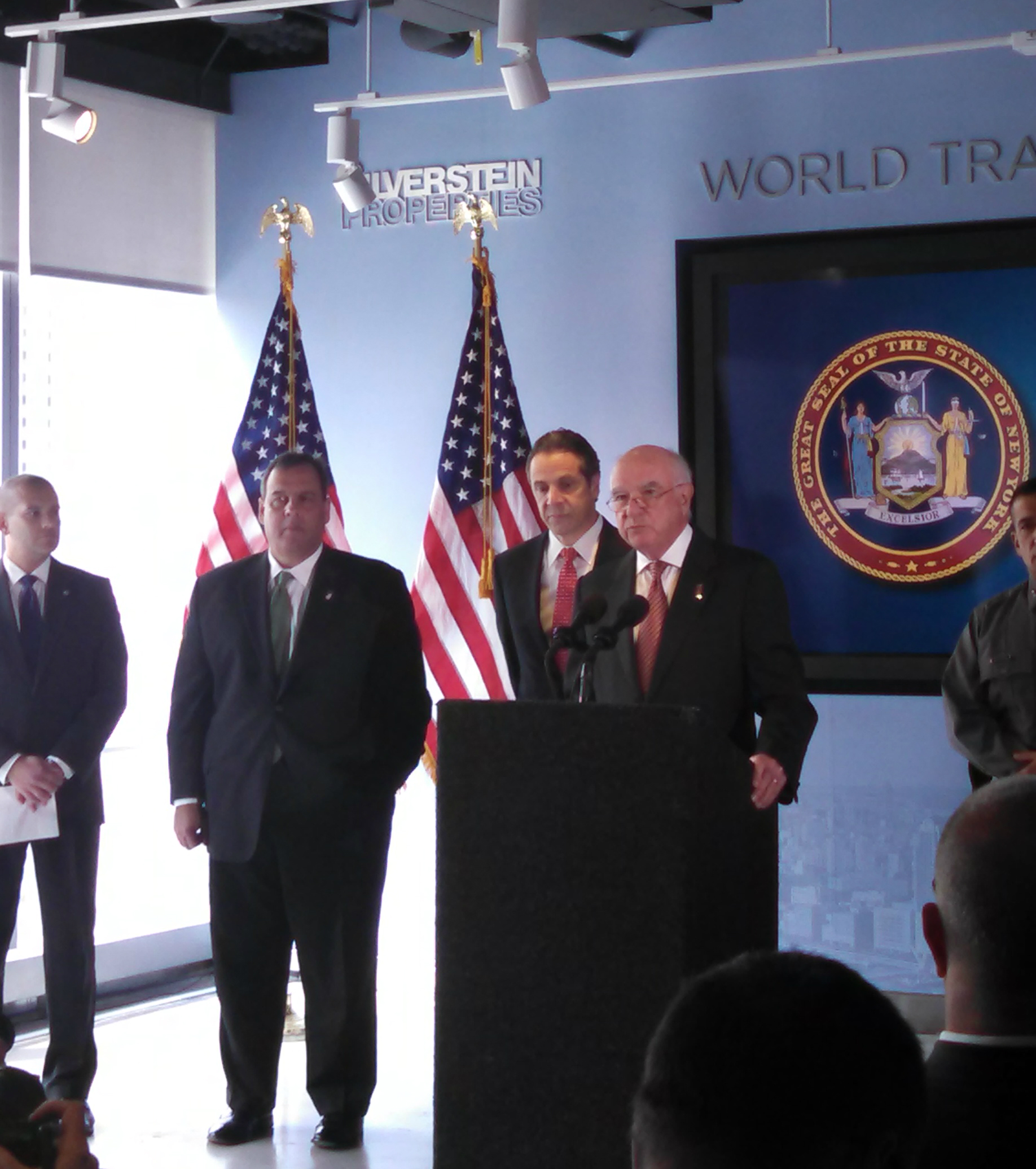 NEW YORK, NY – Even here, standing on the sidewalk outside the entrance to 7 World Trade Center in this bustling metropolis, newly-minted Chairman John Degnan's enthusiasm for reform at an embattled Port Authority comes across strong.
Grabbed by PolitickeNJ following a press conference where the governors of New York and New Jersey announced new plans to ramp-up security measures in the wake of growing terrorist threats abroad, Degnan said the bi-state agency, berated lately by the legislatures on both sides of the Hudson for mismanagement and corruption, is taking "calls for transparency seriously."
He rattled off a list of reforms the Port Authority — which has been mired in scandal following allegations that last year's lane closings at the George Washington Bridge were politically motivated — is already undergoing.
"We're changing the way board meetings are being conducted, the way in which people are allowed to interact with us. We want to hear from the public before we take votes, we want to get the meeting agenda out sufficiently in time before the meetings so people know what we'll be talking about," Degnan said. "We want the agenda to have explanatory material attached to it that tells them what we're going to speak to. We're looking at a whole litany of practices at the Port Authority — whether we have an acceptable code of ethics, why we don't have a chief ethics officer, what we can do to improve our own performance."
Appointed to the position in July, Degnan's efforts have been well received at the agency, it seems — even among those who worried that he might have been too close to the man who appointed him, Gov. Chris Christie. Early this month, the agency adopted a new transparency resolution that allows more access to public records, a process long criticized as being too slow and unresponsive.
But that hasn't stopped the New York and New Jersey legislatures — especially New Jersey's — from forcing its own reforms on the Port Authority. Earlier this week, the Senate passed a bill to "ensure the proper functioning of the Port Authority of New York and New Jersey as an open, transparent, and accountable interstate authority," and the legislature's Select Committee on Investigations, tasked with vetting the agency after last year's controversial lane closings, continues its digging undeterred by Christie, who told the committee's members last week to "wrap up" their work.
Degan told PolitickerNJ he welcomes the legislatures' efforts to open wide the doors at the Port Authority and bring the public in on its internal workings, and noted the agency's top officials have already taken a proactive approach to doing just that.
"We'll do whatever the legislatures tell us we need to do, but we don't want to wait until that happens. These are things we can do before that," he added.
Later, he denied to comment on Christie's directive to the legislative committee to end its investigations into Bridgegate, saying only that "I'm listening carefully to what the governor said and I'm following carefully the developments there."
Degnan also spoke today at the security press conference alongside Christie, New York Gov. Andrew Cuomo, and other top law enforcement officials.