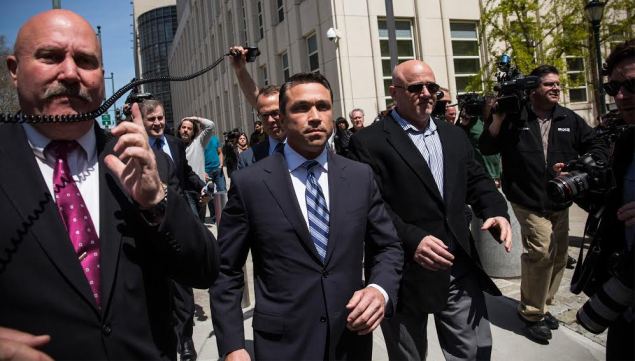 One Democrat is furious that Michael Grimm is the Golden boy.
James Kemmerer, a Democrat challenging State Senator Martin Golden this fall, slammed the Brooklyn Republican for deciding to host a fund-raiser for Mr. Grimm, an indicted Republican congressman. Mr. Golden, whose Brooklyn turf overlaps with Mr. Grimm's Staten Island and Brooklyn-based districts, told supporters in a letter that Mr. Grimm is needed to counteract the "Obama liberal policies so harmful to America."
"I want our Congressional district–the 11th–to join with all the others that will be saying "NO" to the very liberal policies of the Obama Administration," Mr. Golden wrote. "And there is only one way for our district to send that message: by re-electing our conservative-minded Congressman Michael Grimm, who is being challenged this year by a liberal former City Councilman, Domenic Recchia."
This did not sit well with Mr. Kemmerer.
"Marty Golden likes to bring up President Obama who he perceives as unpopular in the district," Mr. Kemmerer, a Bay Ridge business owner, told the Observer. "But if you want true guilt by association look no further than Golden who is actively attaching himself to indicted-on-twenty-counts Grimm. Marty is parading him around not in a perp walk like he deserves but like he's the second coming of Fiorello LaGuardia."
He added, "In fact, no matter if you are a Democrat or a Republican you can see that his alignment with indicted Congressman Grimm is proof that Marty Golden clearly doesn't have the best interests of the district in mind."
Mr. Grimm was indicted in April on a slew of mail, wire and health care fraud charged related to a Manhattan restaurant he ran before he was elected to Congress. Mr. Grimm plead not guilty and will be tried after the November election, when he faces a strong challenge in Democrat Domenic Recchia Jr., a former Brooklyn councilman.
Mr. Golden, who will host the fund-raiser on September 18 at the restaurant Mama Rao Cucina Italiana in Brooklyn, is not likely to lose to Mr. Kemmerer, a political unknown in the relatively conservative district. He has easily fended off Democratic challengers before.
"Our opponent is about as relevant in this community as a haberdashery," said Ray Riley, a spokesman for Mr. Golden. "Since he can't raise money, or get anyone to take him seriously, he is now grasping at straws. We will no longer be responding to his shameless attempts to save a campaign that never got off the ground."
A spokesman for Mr. Grimm did not immediately return a request for comment.
View the full letter below:
[scribd id=238647910 key=key-oGoVzyPXyhuMEvelV6Yc mode=scroll]