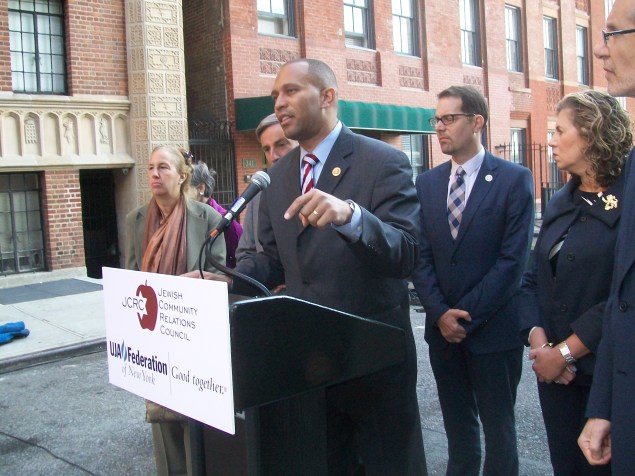 The United States recently unleashed a barrage of new airstrikes on the Islamic State in Iraq and Syria, but a few members of Congress warned this morning that Iran is still the "the greatest danger" that the world faces.
Congress members Jerrold Nadler, Carolyn Maloney and Hakeem Jeffries joined a press conference to denounce Iran a block away from the United Nations, where more than 140 heads of state are meeting this week for the U.N. General Assembly.
"Iran remains a clear and present danger to the United States of America … the Western world and the civilized world," declared Mr. Jeffries, a Brooklyn congressman. "Iran is a wolf masquerading in sheep's clothing and while it's bark may be artificially muted right now, it's bite remains just as vicious."
"Iran is the largest state sponsor of global terrorism: Hamas a terrorist organization, Hezbollah a terrorist organization function essentially as wholly owned subsidiaries of the Iranian government," he added.
The press conference, organized by Orthodox Jewish power broker Michael Miller and his Jewish Community Relations Council of New York, also brought together city elected officials like Comptroller Scott Stringer and Manhattan Borough President Gale Brewer. Mr. Miller, along with the other Democrats, sought to again shine a spotlight on Iran's strained relationship with Israel and its efforts to build nuclear weapons, rebuffing claims that a new, more moderate Iranian head of state would mean an end to the perceived threat of the country.
"The greatest danger the world faces–greater than anything else that we're talking about-is the danger that Iran, a terrorist-sponsoring and a terrorist regime, obtains nuclear weapons. And they're working on nuclear weapons and working on long-range ballistic missiles," Mr. Nadler, a Manhattan and Brooklyn lawmaker, said.
The irony of the latest salvo from New York lawmakers against Iran–even Mayor Bill de Blasio, when he was public advocate, made boycotting Iran a key plank of his agenda–is that internationally, Iran is viewed as a possible partner of the United States' efforts to combat ISIS. The radical Islamist group has seized large swaths of territory in Iraq and Syria, posing a threat to both Iran and Syria, Shiite-dominated nations that revile the Sunni extremist group.
British Prime Minister David Cameron, a close ally of the United States, is set to meet with Iranian President Hassan Rouhani this week to explore the support Iran can lend to fight ISIS. And American officials are using the U.N. meeting this week to convince Iran–once led by Mahmoud Ahmadinejad, who routinely denounced the U.S. and Israel–to join the fight against ISIS.
But Mr. Miller dismissed any "vacuous" analysis that the United States and Iran could work together to battle a common enemy.
"I find that to be a vacuous argument. Yes, if Iran decides it wants to combat ISIS, and from what I know they're not part of the group that's currently conducting strikes in Syria, that's fine and good, let them attack ISIS," Mr. Miller told the Observer. "On the other hand, we can't lose sight of the fact that they are a threat to our own country. They're a threat to our values: they consider America to be the 'great Satan' and only Israel is the 'small Satan.'"
This story is updated to reflect that Mr. Rouhani is the president of Iran, not the prime minister.