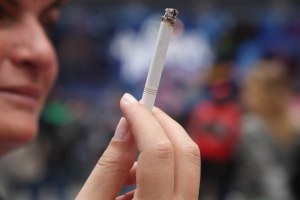 When it comes to lighting up, New York City has hit the 1 million mark, according to data released Monday by the Department of Health (DOH). According to Gothamist, this is the highest since 2007.
As of 2013, the department says 16 percent of New Yorkers smoke, an increase from the city's low of 14 percent in 2010. So what exactly does that mean? For smokers, an increased risk of developing a smoking-related illness, including heart disease, stroke, diabetes, emphysema, lung and other cancers. For the rest of us, it means feeling like our lungs are contracting until a full on panic attack sets in every time one of those anti-smoking commercials comes on.
While most of these ads have targeted heavy smokers in the past, the Health Department launched a new ad campaign Monday called "Imagine for Life" which focuses on the experience of light, daily smokers and non-daily smokers, a group that now makes up 76 percent of the New York City smoking population, compared with 64 percent in 2002, according to the DOH.
The department said in a news release that the new ads "inform smokers that even the minimal health effects they feel after smoking, including a morning cough, are indications of their bodies' negative reaction to smoking, and are just a preview of the daily suffering caused by smoking-related illness."
The television ads will run for the next four weeks. Subway ads for this campaign will run during the month of October.
Based on the department's previous work, we're sure these ads will be just as terrifying as the old ones.