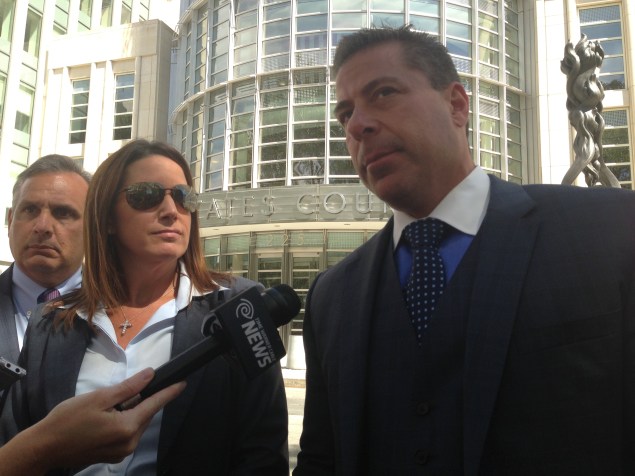 Diana Durand pleaded guilty in a Brooklyn federal court today to funneling illegal campaign contributions to Congressman Michael Grimm — but her attorney said she would not be testifying against Mr. Grimm in exchange for a plea deal that will likely result in probation.
"There was never any cooperation with respect to Ms. Durand giving testimony against Mr. Grimm, nor was there ever any evidence to suggest that she was complicit with Mr. Grimm or that Mr. Grimm was complicit with her, and there is no future promises that she will at a later date cooperate," her attorney Stuart Kaplan said after the court hearing.
Ms. Durand pleaded guilty to one count of a three-count indictment for making illegal contributions to what were listed as "Campaign A" and "Campaign B" in the indictment. One of those campaigns was named as Mr. Grimm's in other court documents. Ms. Durand has been described in some media reports as a former girlfriend of Mr. Grimm's; her plea came a day after Mr. Grimm was in court on unrelated charges.
Her attorneys have requested she serve probation for the crime, which the U.S. government will not argue against. A judge could still sentence her to up to 12 months in jail.
In court, reading from a prepared statement, Ms. Durand told a judge she paid "straw donors" to make contributions to candidates, or reimbursed them after the fact,  in order to obscure where the donations came from.
U.S. Attorney Loretta Lynch warned such schemes would be aggressively prosecuted.
"We and our partners in the FBI are committed to protecting the integrity of the electoral process and will aggressively pursue anyone who attempts to circumvent federal campaign financing laws. Enforcement of these laws ensures that all candidates compete on a level playing field and that the public knows the true source of a candidate's campaign funds," she said in a statement.
Though Mr. Kaplan has previously said his client was "unsophisticated," he said today she took full responsibility for the scheme to funnel more than $10,000 in illegal contributions to Mr. Grimm.
"I don't think at the time – she was trying to raise more money because she was trying to help a friend — that she at the time could appreciate that she could at some point later on in life be confronted with having committed a crime," Mr. Kaplan said outside the courthouse.
Ms. Durand's appearance in court comes a day after Mr. Grimm was in the same courthouse, where a judge set a start date for his trial on fraud and tax charges. Those alleged crimes do not relate to his campaign dealings — meaning any testimony from Ms. Durand in that case would not likely be helpful. But when Ms. Lynch rolled out those charges, which focus on Mr. Grimm's former health food restaurant, she said Mr. Grimm's finances were also still being investigated.
Mr. Kaplan insisted his client was not assisting in that probe.
"My office has extensively and exhaustively reviewed every shred of paper that has been provided to us to date by the United States government and the FBI through their investigation, and there is nothing to suggest whatsoever any complicity with respect to what Diana Durand just pled guilty to and any complicity with respect to Michael Grimm having any knowledge or being a participant in what she has now pled guilty to," Mr. Kaplan said.
The U.S. attorneys prosecuting Ms. Durand's case had previously argued at there was a conflict in her being represented by Mr. Kaplan and his partner Joseph Sconzo — both former FBI agents (like Mr. Grimm) who have ties to the congressman. Mr. Kaplan said again today there had been no communication between him and Mr. Grimm's attorney.
"An attorney with ties to Grimm, like Kaplan and Sconzo, might advise the defendant to plead guilty in order to prevent those potentially embarrassing facts from coming to light," the prosecutors wrote.
Mr. Kaplan did argue for some facts relating to Mr. Grimm to remain sealed in court — but Mr. Kaplan said it was due to the personal nature of the facts, not because they were evidence against the congressman.
"We have never denied the fact that Ms. Durand and the congressman were close friends, and may I suggest to you that there may be some correspondence between the two of them that have more to do with their personal relationship — and certainly having absolutely nothing to do with the legalities or illegalities of the congressman's case as well as Ms. Durand's case. And we thought, in the interest of just being respectful and the right to privacy, that those documents should not be disclosed," Mr. Kaplan said.
Still, Mr. Kaplan said he did believe Ms. Durand's relationship with the congressman — and the ongoing investigation into his finances, which Mr. Kaplan implied could be politically motivated — was why Ms. Durand was targeted for prosecution.
"I believe Ms. Durand was a victim of having had a relationship with the congressman and that they believed at the time that they may be able to utilize her for whatever value she may have had — or whatever value they thought she had against the congressman — and obviously that didn't play out, because there was nothing for her to offer," Mr. Kaplan said.
Ms. Durand, who appeared in court in a gray suit, blue shirt, and snakeskin peep-toe pumps, had no comment for reporters.