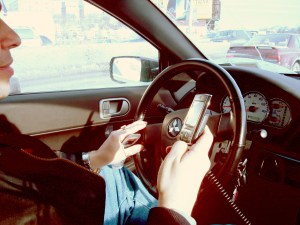 Texting while driving is illegal in 44 states, yet there are more than a million cellphone-related car accidents each year, according to the National Safety Council.
To combat this grave ever-growing problem, one Long Island official proposed a five-point plan that includes activation of software that will automatically shutdown violators' phones as they begin to drive.
Nassau Country District Attorney Kathleen Rice recommended the county sentencing court mandate the use of such software in any case involving a texting violation. How exactly this will be accomplished isn't set, but she is suggesting technology along the lines of ignition interlock devices and transdermal alcohol monitoring ankle bracelets.
Ms. Rice also wrote to Apple, Google, Blackberry and Microsoft herself, urging them to install third-party apps that block texting while driving directly into their phones' operating systems so such apps will come pre-downloaded on all smart phones.
"If cell phone manufacturers can make 'kill switches' standard to help prevent thefts, they can certainly make certain apps standard to save lives," reads the press release.
Ms. Rice also wrote to the nation's largest insurance agencies, urging them offer discounts to drivers who use apps or devices that block texting while driving. She's also focusing on public awareness by creating a website devoted to the issue and adding more information on the topic to her high school education program
(h/t Engagdet)