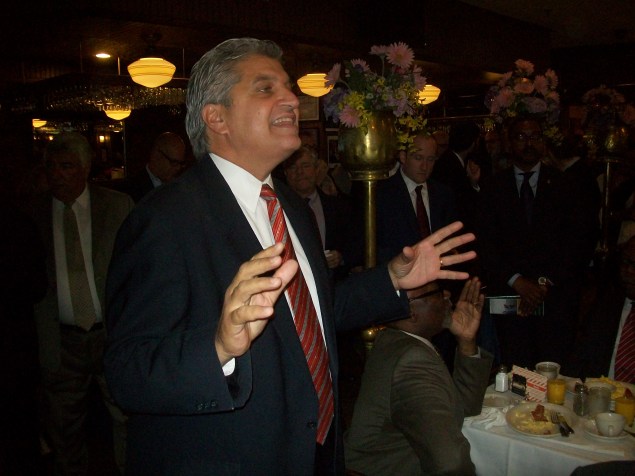 A fired up Domenic Recchia Jr. told Democratic supporters this morning that he is locked in a "very close" race against his Republican rival, echoing talking points from national Democrats who warn that the Brooklyn pol is not guaranteed a win, despite his fund-raising advantage.
"We have a major race, ladies and gentlemen, that we could win," Mr. Recchia practically shouted at a fund-raiser for the Brooklyn Democratic Party. "I need your help to win–it is a very close race. It is a close race between a Democrat who believes in strengthening the middle class, who will fight to make sure that we fight for the people and we care about the people of this city, against someone who has a record I can't even go into. Everybody knows what I'm taking about."
"But I need your help for us to go to Washington, it's a very, very close race," he added, noting that the Democratic Congressional Campaign Committee is "heavily involved" with his campaign.
After Mr. Recchia was done speaking, he sped off to another fund-raiser, fleeing a couple of reporters.
Mr. Recchia, a former Brooklyn councilman, is trying to unseat Congressman Michael Grimm in the Staten Island and Brooklyn-based district. Mr. Grimm was indicted several months ago on various health care, wire fraud and mail fraud charges related to his operation of a Manhattan restaurant, pleading not guilty to all charges. Since the indictment, Mr. Grimm has struggled mightily to raise money and national Republicans have distanced themselves from him.
But Mr. Grimm, popular among conservatives in the district, is campaigning aggressively. A new advertisement from his campaign blasts Mr. Recchia as a "tax-raising machine" for voting to raise property taxes as a councilman more than a decade ago. Brooklynites like Mr. Recchia have also failed to win in the district, which encompasses the entirety of right-leaning Staten Island, in the past.
At least one Brooklynite, though, promised domination in November. Frank Seddio, the chair of the Brooklyn Democratic Party and the host of the fund-raiser at Junior's Restaurant, said the party would lift Mr. Recchia to victory like they have for a number of local Democrats, including, ironically, the indicted State Senator John Sampson.
"We're gonna occupy southern Brooklyn and we're gonna take that vote and raise it by a hundred percent from what it was before and that's how we're gonna make this guy the congressman," Mr. Seddio said.
He added, "What we did for John Sampson, we're gonna do for Domenic Recchia."