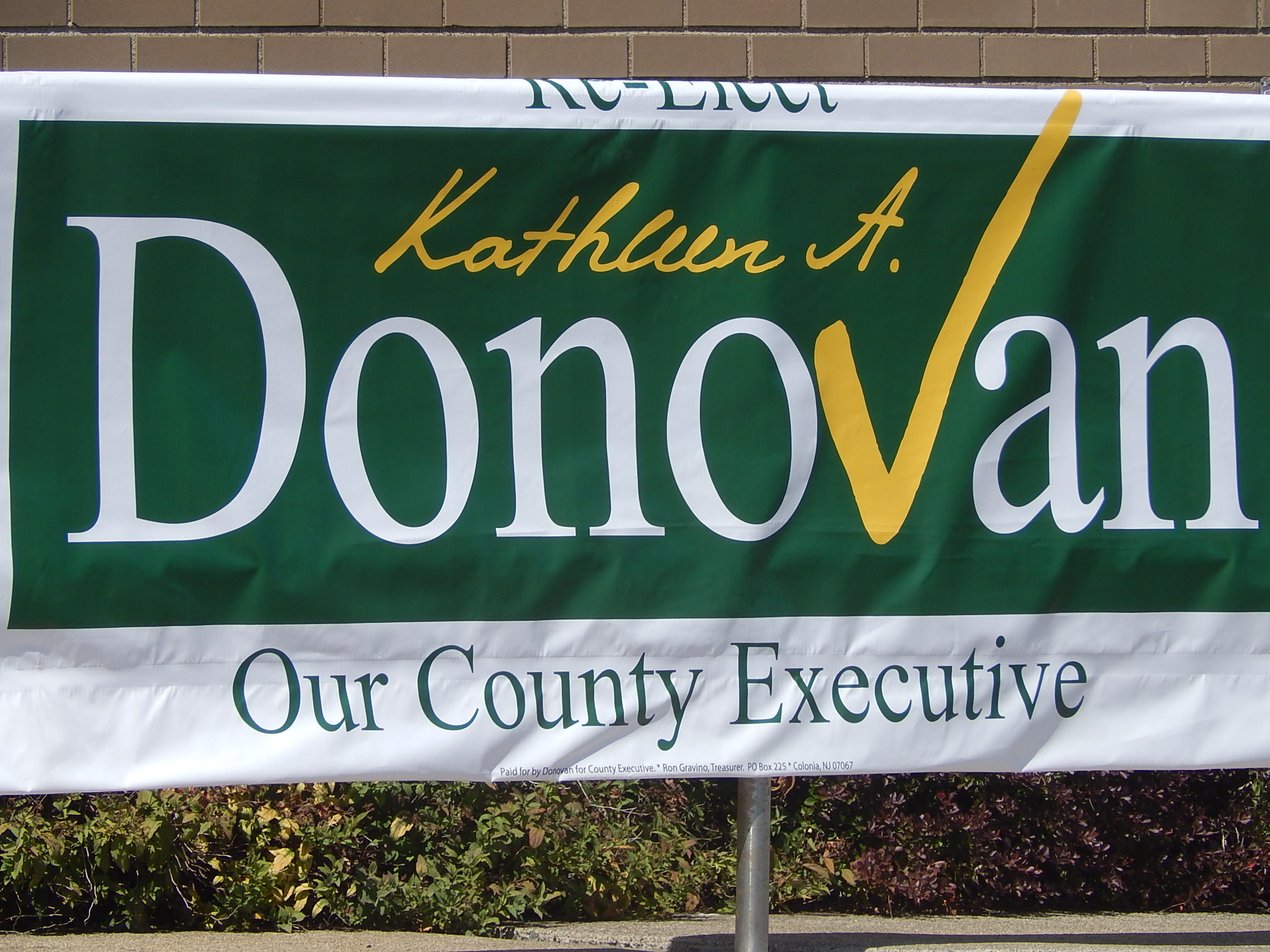 CARLSTADT – At the head of a local sheet metal workroom, incumbent GOP Bergen County Executive Kathleen Donovan today kicked off her re-election campaign with the backing of three New Jersey building trades unions and the promise to continue building on the more than $200 million in savings and efficiencies to county residents over the past four years.
"When I was fortunate enough to first be elected County Executive, I inherited a bloated, wasteful and inefficient government that was far more interested in self-service than public service and I am happy to say we have turned all of that around," Donovan said. "I am proud to say we have kept every single promise to the taxpayers, working families, seniors, children and young adults of Bergen County."
Members of the Sheet Metal Workers Union Local 25, and the International Union of Bricklayers & Allied Craft Workers Administrative District Council all gave their endorsements and pledged financial and manpower support to the county executive throughout the remainder of the campaign. Combined the unions represent more than 13,000 members in New Jersey.
"Nobody has done more for the working families of Bergen County than Kathe Donovan and we need four more years of those efforts," said Joseph Demark, President and Business Manager of the Sheet Metal Workers Local Union 25 and President of the New Jersey State Council of Sheet Metal Workers throughout the state which has over 8,500 members statewide. "Kathe has reformed Bergen County's government and implemented fiscal policies that benefit the local economy which translates into jobs and better livelihoods for everyone – not just our members."
"For the past four years Kathe Donovan has worked with organized labor to improve job quality and put our members to work through her strong fiscal initiatives" said Richard Tolson, Director of International Union of Bricklayers & Allied Craft Workers Administrative District Council. "She hasn't just made promises – she has made a difference."
"I am thrilled to have the support of these organized labor unions that have not only recognized our efforts to reform Bergen County Government, but who have also been on the receiving end of the economic benefits our policies and initiatives have created," said Donovan, who promised to continue to build on the more than $200 million in savings and efficiencies to county residents over the past four years.
Donovan already has the support of the New Jersey Laborers Union.
"With regard to the New Jersey Laborers Union's key industry — construction – Kathe Donovan has shown a keen understanding of the importance of responsible infrastructure investment and has implemented policies that raise both construction and community standards through the use of government policies such as Responsible Contractor Language and Project Labor Agreements," said Ray Pocino. "Our membership is greatly appreciative of what she has done to help Bergen County move forward."
The New Jersey Laborers have more than 20,000 members statewide – including 3,000 members of Building Laborers Local 3 and 8,000 members of General and Heavy Construction Laborers Local 472 representing Northern New Jersey.
Democrats weren't impressed, noting the one year anniversary of Bridgegate and calling into question the practice of New York selecting an Executive Director and New Jersey selecting a Deputy Executive Director to serve as quasi "co-directors" of the Port Authority, blaming Donovan for first implementing the practice when she chaired the Port Authority in 1994.
"Kathe Donovan is responsible for cutting the deal that politicized the Port Authority and allowed the culture of corruption to exist," said Michael Pagan, campaign manager for Jim Tedesco for Bergen County Executive. "Abuses of power within the agency have been ongoing for years and much of it leads directly back to Kathe Donovan. Kathe Donovan put her own self interest and political interests before the public's interests."
Pagan said Donovan spent millions on 17 helicopter and chauffeured car services to and from her house and $25,000 redoing her Port Authority office at a time the bi-state agency faced a $100 million dollar deficit.
Dems also noted that while Donovan sniped a handful of unions, Tedesco received the backing of the Central Labor Council.