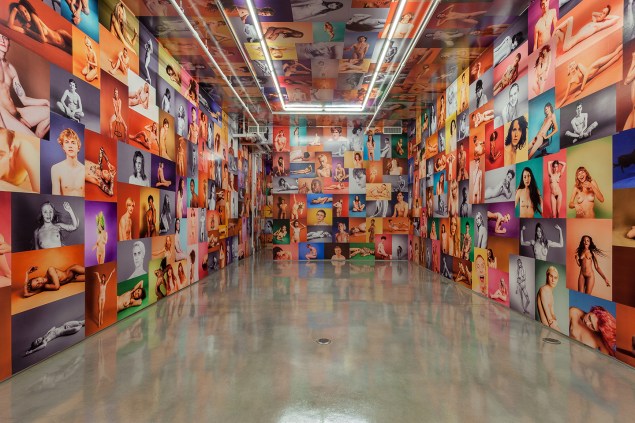 Ryan McGinley openings are notorious spectacles. They're crowded, sweaty and loud, always drawing a crew where the average age just barely hits 22. They often get shut down. And it's easy to see why: Mr. McGinley has for over a decade produced immaculate prints of glowing, bare-faced, drop dead gorgeous youths, thus reliably drawing a social circle of skinny cool kids and moneyed collectors wherever he goes.
Sunday night's opening of "Yearbook"—an exhibition of Mr. McGinley's latest body of work on show at Team gallery—was no exception. It took place in conjunction with "tl;dr," the new show by post-conceptual artist Cory Arcangel, installed just around the corner at Team's other location on Wooster. The artists may produce vastly different work, but their trajectories are similar: both broke onto the scene in the early 2000s, got picked up early by Team, and were embraced by institutions such as the Whitney at a precociously young age.
And, because of the nature of his work and the devotion of his acolytes, Mr. McGinley's openings often feature beautiful young things in the crowd looking at pictures of themselves totally naked.
"I remember this moment when I was taking my shirt off and was like, 'Here we go!'" Peter, 22, told the Observer as he explained how exactly a 24-by-36-inch print of him in his birthday suit ended up on a gallery wall. Just 19 when Mr. McGinley shot him, Peter, like many of the other 300 or so models photographed for the project, was an NYU student spotted by the studio's cast- ing agent—who, in her spare time, moonlights as a rapper named Feebzz on YouTube.
"It was super chill," he said.
Surrounded by Mr. McGinley's studio assistants—complete with Yashica cameras swung round their necks—Team owner José Freire stood keeping an eye on the madness.
"It took the entire two weeks," Mr. Freire said of the installation process, which resulted in a high wow-factor show where 700 vinyl prints of elfin teens and tattooed 20-somethings against candy colored backdrops were plastered from floor to ceiling.
"And Ryan will work on anything until the last possible second to make it perfect," he added.
Meanwhile, Mr. Arcangel's show down the block felt far more like your typical New York opening compared with the pop-star levels of fandom that Mr. McGinley is subject to. "tl;dr" was chock full of flat-screen televisions showing Puff Daddy exiting his private jet, or images of Hillary Clinton and Britney Spears—all of which have had the Java applet Lake applied to them. Mr. Arcangel, whose digital creations were displayed in a solo show at the Whitney in 2011, has become a sort of coder-slash-artist wunderkind.
And so as the previews drew to a close there was, of course, an after-party to be had. However, rather than taking place at the newest hot spot, the pair opted for a double screening at Tribeca Cinemas: Gremlins 2: The New Batch and Home Alone 2: Lost in New York. Popcorn was served, as was an open bar of beer and wine, and the result was a rowdy bunch heckling the movie screen as Macaulay Culkin counseled the bird lady who lives in the roof of Carnegie Hall.
General schmoozing was still possible de- spite the boozy screenings, but by that point any attempt at coherent conversation was fruitless. When inquiring as to how one guest had ended up as a model for "Yearbook," he replied vaguely, "I'm the weird guy you see coming by the studio." If only immortality in a Ryan McGinley picture were so easy.