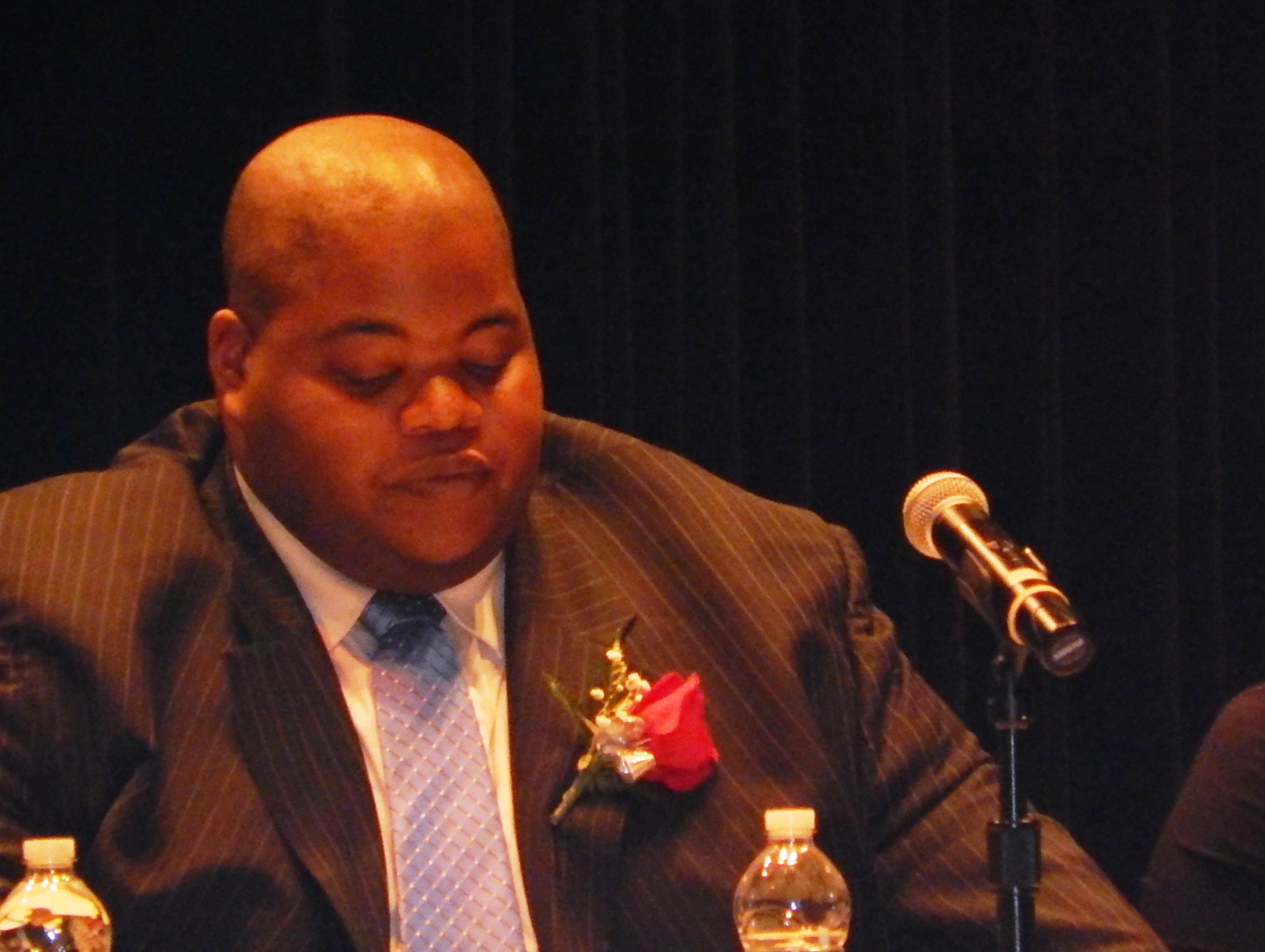 At an evening meeting, the City Council of East Orange unanimously passed a local law guaranteeing a worker's right to earn paid sick days over time.
That makes East Orange the fourth city to pass such an ordinance, just one week after Passaic City passed a similar measure by a vote of 7-0, with the City of Paterson poised to do the same on Tuesday.
Working in conjunction with the mayor's office, Councilman Chris James (pictured) introduced the ordinance.
"This policy will help keep East Orange's families, small businesses and local economy healthy," said Mayor Lester Taylor. "And we hope the other four cities currently considering identical ordinances will follow our example."
An estimated 10,000 workers in East Orange don't receive paid sick days.
"This ordinance will bring tangible benefits to East Orange's economy and local businesses by reducing turnover, building employee loyalty and attracting a high quality talent pool," said Amir Hashemi, President of the East Orange Chamber of Commerce. "The East Orange Chamber of Commerce welcomes the passage of this common sense policy because it will protect workers and business owners alike."
According to a New Jersey Working Families press release, the law passed in East Orange and Passaic and pending in other municipalities is closely modeled on the Newark ordinance enacted this summer. It allows private-sector workers to earn 1 hour of sick time for every 30 hours worked. Those that work in businesses with 10 or more employees can earn five paid sick days per year; workers in businesses with nine or fewer employees would be eligible to earn three paid sick days per year. In addition, employees directly in contact with the public, such as food service and daycare workers would be eligible to earn five sick days regardless of company size. The days can be used to care for themselves or for sick children, siblings, parents, grandparents or grandchildren.
"Two out of every three women in America are the sole breadwinner for their families, but their jobs don't provide the time to care for their families when illness strikes," said Maretta Short, President of the Essex County Chapter of the National Organization for Women and an East Orange resident. "Our families and needs have changed, but our workplace standards haven't caught up. This law will go a long way towards making sure East Orange's working women and their families have a fair shot at achieving lasting economic security and success."
The ordinance passed as part of a coordinated campaign to pass local earned sick days laws in six more cities to build upon successes passing similar legislation in Newark and Jersey City. If the other four cities join Passaic and East Orange, the Rutgers Center for Women and Work estimates local laws will cover 74,000 workers who are unable to earn paid sick days to care for themselves or their families in the event of an illness. Combined with Newark and Jersey City, a full 144,000 workers will have received the right to earn sick days through local ordinances.
"Tonight's victory in East Orange builds on the incredible momentum established by Newark, Jersey City, and Passaic," said Analilia Mejia, executive director of New Jersey Working Families. "Local leaders and grassroots activists are showing the way for a statewide bill that will extend to all New Jersey workers what should be a basic workplace right."