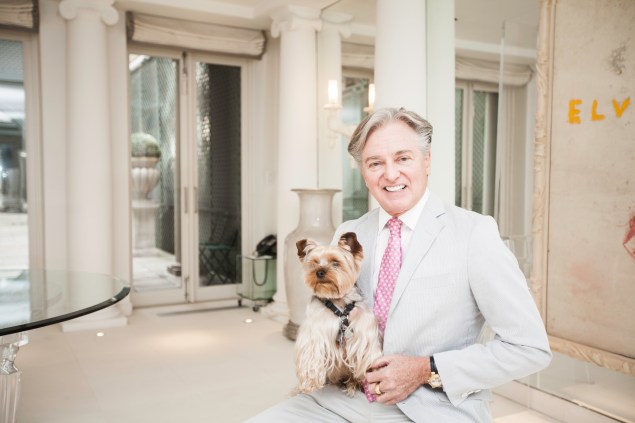 Interior designer to American and international aristocracy Geoffrey Bradfield is known for his ability to carefully curate art collections that live and breathe within his clients' homes. In his own home, pieces by Julian Schnabel (who even painted one of his legendary broken plate portraits for Mr. Bradfield) Kenneth Noland and Jeff Koons feature in interiors that are at once modern and timelessly elegant.  Between trips to Jakarta and Baku, we caught up with the design virtuoso in his Upper East Side townhouse, which, coincidentally, is also his company's headquarters. 
Tell us a little bit about this home and what attracted you to it. This house was built in 1869. Originally the front door led to what is now the drawing room on the second floor. This drawing room has 12-foot-6-inch ceilings, which is very unusual, and one of the factors that attracted me to the house. I love 61st street and have lived in this area for going on 37 years. I've never moved—it's always been my home. I loved the house because it has this very Italianate façade, which was apparently put onto the house in 1912.
What is it about this particular corner of the Upper East Side that appeals to you so much? We are very territorial. Not only are you a New Yorker, but we feel very strongly about where we live. I hate going to the West Side, I don't like downtown—I really need a gun at my head before I even think of going downtown! When you start to analyze the areas of New York they actually do have a village feel to them, but you can't really apply the term "village" to the Upper East Side because it's most sophisticated and in a way an anachronism of what old New York was. Park Avenue is totally unique—there's nothing like it in the world. It is amazing because it really began just after the last century and is only like 110 years old. It's a miracle of architecture, the diversity. I love it. I will come back from the airport and I will say to my driver, "It's out of the way but let's do down Park Avenue." Driving down that canyon of beauty and looking at Grand Central at the end is ravishingly beautiful. 
You're originally from South Africa but of course have been living here for 37 years. Are there any pieces in your home that serve as reminders of your homeland? There is a marvelous painting by a South African artist called Karel Nel in my drawing room. I was very homesick at one point and I'm from a rural area that was called the Transkei. Karel went to the Transkei and got the pigments that the Xhosa tribes use for rituals, and came here, got a studio and did this painting for me and called it Ancestral Void. So I have a little bit of my country with me at all times.
How would you describe your design style? A lot of people find a lot of serenity in my work. They always walk around my interiors and say, "This is so serene and calm," and there is a Zen quality I think.  I don't do it intentionally, it just happens.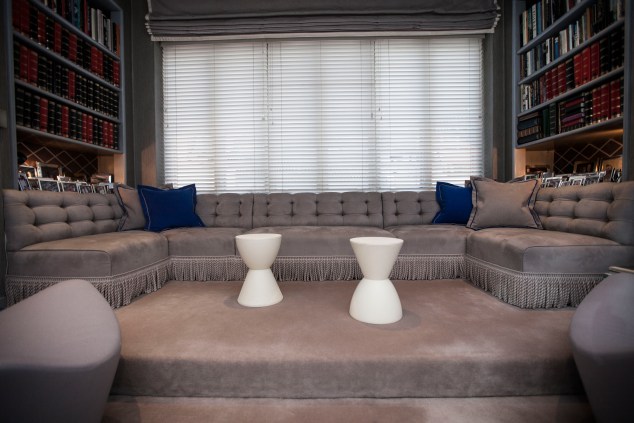 What is your favorite room in your house? The library is for me the heart of the house because it's where I hang out with chums watch a movie and have drinks, so it's a very used room. My drawing room I love using but it's more elegant—it's a principal room. I love my reception room downstairs because of the skeletal feeling it has to it. I am someone who really likes very few things around.
You are exposed to such impressive art and furniture on a daily basis. How then do you select and edit the interiors of your own home? I would say that what would play a factor in that is finance! If I could have a Francis Bacon I would, if I had $34 million to toss around that is! There's actually one on the market these days that has my name on it. I like simplicity and I do edit. I think most designers worth their salt are capable of editing. I like things that speak to me. I think one has a dialogue with art; it's appealing. I am drawn to simple design; I don't like anything over designed. I think these rooms speak for that. I love color, but I prefer using color as an accent. I tend to lean towards white, which is officially not a color, I know!