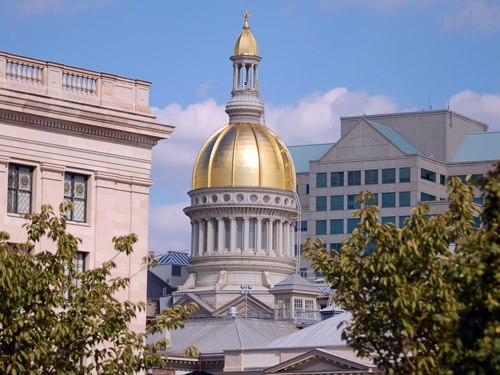 The top 25 special interest groups during the past 15 years spent a combined $311 million on campaign contributions, lobbying and independent spending, according to an analysis by the New Jersey Election Law Enforcement Commission (ELEC).
The major spending went to political contributions ($163 million), followed by lobbying ($107 million), and, in more recent years, independent spending on campaigns ($41 million).
Jeff Brindle, ELEC's Executive Director, said the influence of the special interest groups was uncovered through ELEC's broadest-ever review of their New Jersey political efforts. "This is the most detailed examination of special interest spending ever done by ELEC. It included looking at contributions made either through PACs or directly to candidates and parties, lobbying and independent spending on both campaigns and ballot initiatives," he added.
"While eight unions collectively are the biggest spenders, the top 25 represents a wide array of interests. It includes three trade associations, two national political committees, four utilities and an insurance company that are regulated by the state, a public contractor, four professional associations and two 'ideological' groups that represent businesses and senior citizens," Brindle said.
He explained that political action committees (PACs) traditionally have been one of the major outlets for special interest spending. But focusing solely on PACs does not disclose the full clout of special interest groups. "Some interest groups, such as public contractors, make massive contributions without PACs. Those groups also exert an influence in the state's capitol," said Brindle.
Other groups mostly rely on lobbying, particularly regulated industries that are barred by law from making direct campaign contributions and do minimal spending through employee PACs, Brindle said. He also explained that since 2009, there has been a major surge of independent campaign spending, both nationally and within New Jersey.
"There are lots of ways for special interest groups to wield their influence, and the biggest ones take advantage of some or all of these options," he said.
Overall, unions were the biggest spenders, leading all groups in contributions ($120 million), independent spending ($22 million) and total spending ($171 million). Regulated industries invested the most dollars in lobbying ($34 million).
Regulated industries include gas and electric utilities, insurance, water and cable companies and other businesses that are substantially regulated by the state.
Looking only at 2013, unions also were big spenders during a state campaign that was the largest since 2001. It featured a campaign for governor and all 120 legislative seats.
The state's oldest registered lobbying group and the top special interest spender since 1999 is the New Jersey Education Association. The union represents 195,501 teachers and other school employees.
NJEA spent $57 million during the period- $30 million more than the next biggest spender, the International Brotherhood of Electrical Workers and its state affiliates. In 2013 alone, it spent $19.5 million on contributions, independent spending, and lobbying- the largest annual total ever for any special interest group.
"NJEA is considered a powerhouse in Trenton and for good reason. Few special interest groups come close to matching its financial clout," said Brindle.
For the third year, ELEC reviewed all spending by 296 PACs that filed reports to determine how much went directly to New Jersey candidates and committees in 2013.
The analysis found that PACs funneled $22.1 million to New Jersey candidates and committees- a 148 percent increase from the $8.9 million in estimated spending the year before, when there were no major state elections.
Not surprisingly, legislative candidates ($13.7 million) and gubernatorial candidates ($720,453) combined received the lion's share of the funds distributed by PACs in 2013.
Including the $22.1 million that went directly to New Jersey candidates and committees, PACs that register with ELEC reported spending a total of $59.5 million- the highest amount ever.
Most of the difference between the two numbers represents funds that went to out-of-state candidates or committees, or to federal candidates in New Jersey. Some national PACs that register in New Jersey include all spending in their reports, including funds that go to other states.
In addition, New Jersey candidates and committees received about $1.8 million from PACs that did not register and file reports with ELEC. That brought total PAC spending to $61.3 million- a 116 percent increase from 2012.
Following a trend that dates back to at least 2005, union PACs once again were the major contributors in 2013. They gave $14.3 million to New Jersey candidates and committees- 64 percent of the total PAC funds distributed within the state.
Among registered PACs, the top 25 contributors in 2013 alone funneled $12.5 million to New Jersey candidates and committees- 61 percent of total PAC spending. They gave a combined $7.5 million to legislative candidates- nearly 60 percent of the total spending by PACs.
Technically known in New Jersey as continuing political committees, PACs generally are required to file detailed reports with ELEC when, during a calendar year, they contribute in excess of $5,500 to state and/or local candidates. They must file reports with ELEC each quarter that list their contributions and expenditures.
For purposes of this analysis, special interest PACs are defined as those that identified themselves as a business, labor union, professional association, ideological group, civic association, trade association, or other ongoing.
The list also includes PACs formed by employees of regulated industries such as banks and insurance companies, which cannot use corporate funds for campaign contributions.
In its long-term analysis of major special interest spending, ELEC began with 1999 because it was the earliest year for which PAC reports and lobbying information are available online.
This press release is a compilation of figures reported to the Commission, and is not intended to express any opinion concerning the accuracy or completeness of any filed report. Although the Commission has taken all reasonable precautions to prevent mathematical or typographical errors, they may occur.