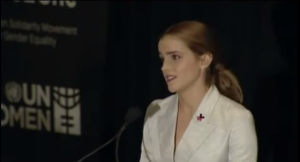 Following Emma Watson's well-received UN speech on gender equality came rumors that the actress's nude photos had been stolen and would soon be posted online by a 4Chan user. The threat also came after the invasive theft and distribution of nude photos of Jennifer Lawrence, Kate Upton and many others less than a month ago.
Emmayouarenext.com has been hosting a countdown clock, ticking down until the release of Emma Watson's nude photos. Many had been wondering if the photos actually exist and would be making their debut at the end of the countdown, but it has been confirmed that the whole thing is a hoax.
It turns out that 4Chan was never involved in the Emma Watson nude photo leak threat at all, and the whole thing was drummed up by Rantic Marketing in an attempt to bring light to the issue of celebrity privacy. According to a Reddit post, emmayouarenext.com is hosted on the same server as Rantic.com. Their intention was to host a countdown until the photo release to keep people coming to the page. Then — when everyone was eagerly checking the countdown (which saw 48 million visitors) — they would replace the clock with their campaign efforts to ban 4Chan.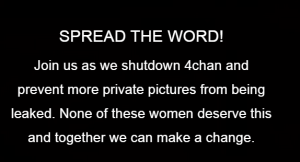 Both emmayouarenext.com and Rantic.com are connected to FoxWeekly — a former YouTube spammer group known for past countdown clock antics. FoxWeekly was also the first to report the news of the potential Emma Waston nude release.
To continue their twisted effort to stop celebrity privacy invasion, Rantic is even reaching out to the U.S. President on their page. They posted the following letter with a link to send the letter to the White House:
"DEAR BARACK OBAMA,

We have been hired by celebrity publicists to bring this disgusting issue to attention. The recent 4chan celebrity nude leaks in past 2 months have been an invasion of privacy and is also clear indication that the internet NEEDS to be censored. Every Facebook like, share & Twitter mention will count as a social signature — and will be step closer to shutting down www.4chan.org.

Sincerely,
Rantic.com"
The site is promoting #shutdown4chan, but the Twitter effort has resulted in backlash towards Rantic. Even the top comment on the countdown clock turned Rantic PSA is #shutdownrantic.
Rantic may have thought they were advocating for celebrities, but many feel they exploited the situation and did little to nothing more than bring another young woman into the messy mix of nude photos, privacy invasion and 4Chan thieves. Granted, such photos were never released (and perhaps never will be) but the threat is problematic enough. Rantic is trying to fight these scandals but instead, they invented their own. What is worse is that they piggybacked off Ms. Watson's powerful speech and distracted the public from her message to try to prove their point.
Newsflash, Rantic: We already know that stealing and releasing private photos is horrible.