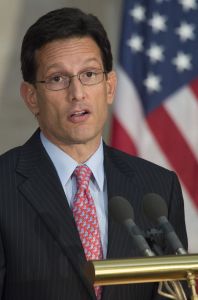 It's been a few months of jarring ups and downs for former Majority Leader Eric Cantor and the Observer has exclusively learned that a new challenge is heading his way.
After becoming the highest-ranking Jewish member of Congress in history, Mr. Cantor suffered a stunning defeat in June, losing the Republican primary to a virtual unknown and almost immediately resigning his seat. Then things were looking up when he became vice chairman and managing director of investment bank Moelis & Company, with a salary of some $1.2 million and generous stock options.
But now, the Observer has exclusively learned that Mr. Cantor is being subpoenaed to a deposition in a case against the Bank of China. Meanwhile, the bank — and possibly the highest level of Israeli government — are frantically trying to block the former Congressman from testifying.
According to the Jerusalem Post, a lawsuit named for Emil Almaliakh, an Israeli killed by a suicide bomber in 2007, was brought by the Israel Law Center charging the Bank of China with facilitating the attack by allowing Islamic Jihad and Hamas to use its wire transfer service via accounts in China.
The Israel Law Center leaves little doubt about its mission – its motto is "Help stop terrorism one lawsuit at a time." It has successfully prevailed upon the courts to slow or stop nations from abetting terrorism, either willfully or by turning a blind eye.
So it was surprising when the group accused Prime Minister Netanyahu, who made his name punishing terror with maximum force and whose brother Yonatan was killed in the heroic raid on Entebbe, of filing a motion in a DC federal court to prevent a witness, former Israeli Mossad agent Uzi Shaya, from testifying in a way that the Prime Minister allegedly feared would harm Israel-China relations.
According to Time: "Israeli agents investigating Palestinian militant groups had already detected a money trail leading from the Damascus headquarters of Islamic Jihad and Hamas to Guangzhou in southern China. In court papers, the investigators said they found bank accounts controlled by a Palestinian named Said Shurafa, transferring millions of dollars from Syria to the Gaza Strip, where it was used by the groups' "military" wings. The court papers say Israeli counterterrorism officials traveled to China to share their findings with their counterparts and to ask that the accounts be closed."
When the accounts were not closed, Israel Law Center stepped in, and that's where the Cantor subpoena emerged. According to a subpoena filed in US District Court in the Southern District of New York that lists Rivka Martha Moriah et al as the plaintiffs and the Bank of China as the defendant, Mr. Cantor is commanded to appear at 10 am at the Berkman Law Office in Brooklyn to provide testimony.
Nitsana Darshan Leitner, the founder of Israel Law Center, told the Observer this morning that Mr. Cantor met with Israeli Prime Minister Benjamin Netanyahu last summer and discussed the issues in the case.
"We are subpoenaing Cantor because he met with Netanyahu in August 2013 in Israel and discussed, inter Alia, why the Israeli [government] is refusing to allow former senior Mossad official Uzi Shaya to testify against the Bank of China. Cantor's cousin Daniel Cantor Wultz was killed in a 2005 suicide bombing in Tel Aviv and his family are plaintiffs along with 22 other families. We allege that Netanyahu told Cantor that the Chinese are placing extreme pressure on Israel not to allow the agent to testify. Cantor pleaded with Netanyahu not to block the agent. Now that Netanyahu has decided the Mossad agent's testimony would harm national security and blocked the agent from appearing, we are alleging that China obstructed justice and tortuously interfered with an agreement we had with the Israeli government and that Israel breached a formal promise to me that Israel would provide agents to testify against the Bank."
This is blockbuster material. While it is certainly not the first time the prime minister has been accused of being pressured to back off accusations that Chinese banks have been used to finance terror, what's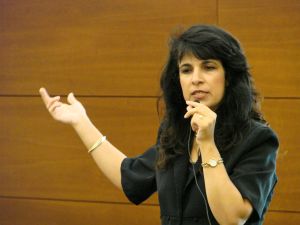 new here is the targeting of a high-profile American who can possibly shed light on exactly what the prime minister knows about possible Chinese involvement and what is being done to prevent that involvement from becoming known.
And it's made even more fascinating because of Mr. Cantor's personal connection to one of the victims. One of the plaintiffs named in the current suit is Daniel Cantor Wultz, who is the son of Mr. Cantor's cousin. According to Time, Daniel was killed while visiting Israel in 2006 " when a suicide bomber from the Palestinian militant group Islamic Jihad detonated the bomb he was wearing as he stood on a Tel Aviv sidewalk."
For its part, Bank of China has informed Israel Law Center counsel that they will look to challenge the Cantor subpoena, according to sources with close knowledge of the Center's legal machinations.
Nitsana Darshan Leitner concluded to the Observer, "Politics must not trump human life. Eric Cantor met with PM Netanyahu last summer and we believe this case was discussed. We intend to use the court of law to discover precisely what was discussed. Did the Chinese pressure Netanyahu to block the testimony of an Israeli intelligence agent? Best place to find out is a court of law."