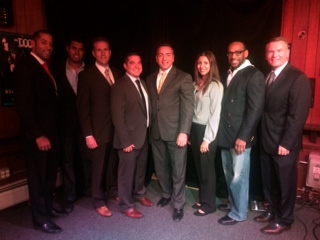 MONTCLAIR – An array of Essex Democrats assembled this week to help provide the funds needed to get some allies along the Jersey Shore elected in November.
"Vin Gopal is trying to turn Monmouth blue," said Essex County Clerk Chris Durkin about the Monmouth County Democratic chairman, who brought his freeholder candidates, Giuseppe "Joe" Grillo and Larry Luttrell, up the Garden State Parkway for a Wednesday night fundraiser at Tierney's in Montclair. "Our Essex County Democratic chairman, Leroy Jones, trusts Vin Gopal. That's what relationships are all about."
Jones and Durkin were not the only prominent Essex Democrats in the room. Essex County Executive Joe DiVincenzo's chief of staff Phil Alagia, state Assemblyman Ralph Caputo (D-28), state Assemblyman Tom Giblin (D-34), Bloomfield Mayor Michael Venezia and Newark's North Ward Councilman Anibal Ramos, Jr. were all present, as well as Essex County Freeholder, Montclair Democratic Chairman and U.S. Sen. Cory Booker's campaign manager, Brendan Gill and Paul Brubaker, state director for U.S. Sen. Bob Menendez.
"It's tremendous that you guys are here to help us," said Gopal. "Somehow, every time somebody moves from Essex to Monmouth, they change their voter registration to Republican, but they're already Democrats. We need to remind people where they're from. We have more than 104,000 registered Democrats versus 96,000 registered Republicans. Our five-member freeholder board is all Republican right now. But now the demographics are shifting in our favor, and we are outworking our opponents."
Grillo and Luttrell, who are taking on incumbent Republican Freeholders Lillian Burry and Gary Rich to win three-year terms, thanked the Essex Democratic posse for their support.
"My wife was born in Montclair, and my father-in-law was born and raised in Newark," Luttrell, an attorney from Holmdel, said. "I'm very grateful and thankful for everything that you're doing. Our goal is to make sure that the Republicans can't take Monmouth County for granted anymore."
"I used to live in Bloomfield, I went to school in Newark and I met my wife in Montclair," Grillo, a businessman from Asbury Park, said. "The messaging is with us, the effort is with us, and we're going to shock Monmouth County on November 4."
Jones, who has spoken of the emerging North Jersey Democratic power bloc involving Essex, Bergen, Passaic and Hudson counties, commented on the North Jersey Dems' relationship to Monmouth.
"My relationship with Vin is nothing new," Jones told PolitickerNJ. "He has his challenges, but we're here to help."
Gopal was cagey when asked how much was generated for the Monmouth Democratic freeholder candidates, saying that "more than $35,000" had been raised. But he was more forthcoming about what the Monmouth Dems can learn from the Essex Dems.
"They have done an extraordinary job in Essex County as far as managing a county government, and it's all Democratic. If you look at Essex County, they have some of the best parks in the country, and they have a great zoo that makes money," Gopal said. "It's a model for Monmouth to hope to achieve one day."